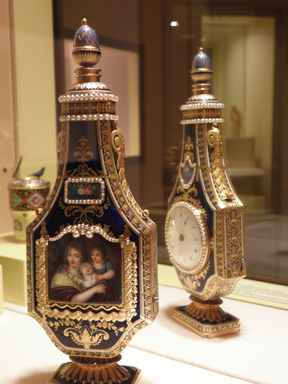 Last week we brought you a look at the new Parmigiani Oval watch with telescopic hands, and showed the original model the watch was based on. That model, along with hundreds of other amazing historical timepieces, snuff boxes, automatons and more, are part of the Maurice Sandoz Collection, and is on display at A La Vieille Russie in New York City until November 26. The Mechanical Wonders exhibit is a must see.
The exhibit brings 50 unique historical pieces together to surprise and delight collectors and watch connoisseurs. Included among the highlights are works of Faberge' (the Imperial Peacock and Swan eggs), a revolver clock with singing bird and more that Maurice Sandoz, writer and composer, collected throughout his life. Parmigiani Fleurier, with restoration shops in Switzerland, has worked to restore many of the pieces to working order under the vigilant direction of Michel Parmigiani – master watchmaker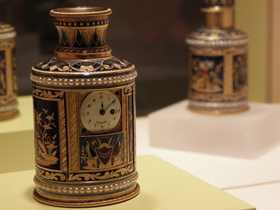 and restorer who has worked on the collection for decades. The pistol watch with songbird took 500 hours to restore, while a Pendule Sympathique clock by Breguet took Michele Parmigiani 2,000 hours to restore.
My favorites: a scent bottle with watch, automatons and chimes; an Opera Glass with music and animated figures, as well as clock; Double barrel pistol with singing bird; huge bird cage with singing birds, fountain, mechanical organ and clock bottom; The Imperial Peacock Egg. Don't miss this once-in-a-lifetime opportunity to see some of the most rare and beautiful renditions on display here in the USA.