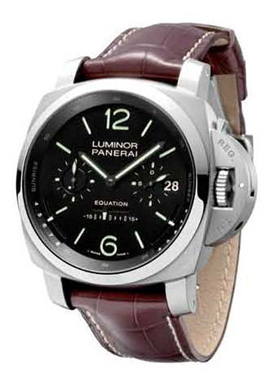 L'AstronimoPut some of the world's foremost astronomers in a room – and not just any room, but the main lounge of the 107-year-old New York Explorer's Club – pack it with scientists, explorers and journalists, add one of the most-sought-after watch brands in the luxury market and its new astronomical watches that celebrate Galileo and you have one hugely overwhelming statement on time and space.
This is exactly what Officine Panerai did a couple of nights ago when it assembled world renowned astronomers to discuss "Time & Space: A Look Back at the Clockwork Universe." The event, packed with Panerai enthusiasts, was designed to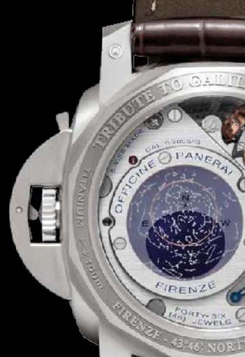 celebrate the 400th anniversary of Galileo Galilie's discovery of Jupiter's moons with the then newly invented telescope. Additionally Panerai unveiled its newest collection of three timepieces inspired by and dedicated to Galileo. The timepieces – L'Astronomo, Lo Scienziato and a clock called Jupitereium –celebrate infinite time and the Florentine ties of Panerai and Galileo.
While the event was impressive and definitely deep-space mind boggling, the watches are the highlight. Most impressive among them is the made-to-order-only L'Astonomo timepiece – the brand's most complicated watch ever made. The 50mm Luminor
Lo 'Scienziato 1950 Equation of Time Tourbillon Titanio (L'Astronomo, PAM00365) is truly a grand complication, with tourbillon, equation of time, indication of sunrise and sunset times for the city chosen by the purchaser, and depiction of the night sky of that city on a disk on the back plate. With all of those coveted functions in the 375-part hand-wound mechanical Panerai caliber, one would thing the watch would be overwhelmingly difficult to read. However, in true Panerai style, it is amazingly clean and easy to read, once ordered, this watch will take about 18 months to complete and deliver. It will retail for approximately $250,000.
The Lo Scienziato Radiomir Tourbillon GMT Ceramica, which retails for about $100,000 less than the L'Astronomo, is a 48mm ceramic piece with a skeletonized movement made of a fine mesh. Just 30 numbered pieces will be made, each retailing for $160,000.
(Featured speakers at the event included three of the world's leading astronomers: Dr. Owen Gingerich, Dr. Anthony Aveni and Dr. Derrick Pitts. The panel discussed Galileo's theories and discoveries, and the on-going scientific investigation into time and space. Of particular historical watchmaking interest was the recollection of how Galileo timed the swings of the chandelier in the Pisa church, and developed the pendulum concept.)