We write about them often – MB&F – or Max Busser and friends. Not too long ago we introduced the HM 4 here. Now, just before BaselWorld, we bring you the re-engineered HM3 (the brand's best-selling watch ever –that was originally designed by Jean-Marc Wiederrecht) in the form of the HM3 Megawind.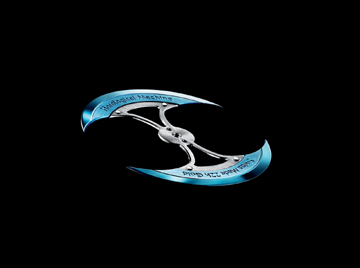 The new HM3 MEGAWIND, watch houses an oversized 22-karat gold and titanium winding rotor. This larger blade rotor in battle-axe configuration is the concept of independent watchmaker Stepan Sarpaneva (who collaborated on the Moon Machine with MB&F), who also named the piece. The Megawind is powered by the inverted movement of the HM3, which consists of 270 components. The 50-part ultra-lightweight watch case –like the HM 3 –features raised domes (much like the Frog) machined from aluminium for the depiction of the hours and minutes –making time visible from the sides of the cones and from their flat caps. As they revolve, the strong, but lightweight high-tech titanium arms of the rotor intermittently reveal tantalising views through to the fervently oscillating balance wheel.
The MegaWind is truly the result of a collaborative effort with more than a dozen top watch making veterans involved. MegaWind is being built in 18-karat rose gold with a 22-karat rose gold rotor, and in 18-karat white gold with a sky blue 22-karat gold rotor. We will bring you more details about this watch after BaselWorld. Stay Tuned.