By Gordon Henderson
Originally launched in 2009, the Chopard L.U.C Lunar Big Date watch housed the L.U.C 96.20-L, with a moon phase accuracy of 122 years! Coming from a mechanical piece, made in-house by Chopard, this is a big deal because if the watch never stops running, you won't have to adjust the moonphase in your lifetime. Now, Chopard takes that same movement and introduces the watch in an 18-karat white gold version with an updated design aesthetic.
Before I delve into the details of this watch, I should start off by saying that I have a personal bias towards lunar complications. As such, if there is some editorial sensationalism don't be surprised. The dial on this watch is absolutely beautiful and features a zen-like simplicity when it comes to legibility. Featured below the 12:00 is the Big Date, at 7:00 lies the lunar complication and at the 5:00 is the small seconds' hand. The numbers are presented in Roman numerals and are encircled by a chapter ring. Finishing touches include a silver-toned sunburst dial, a satin brushed case band and Dauphine hands.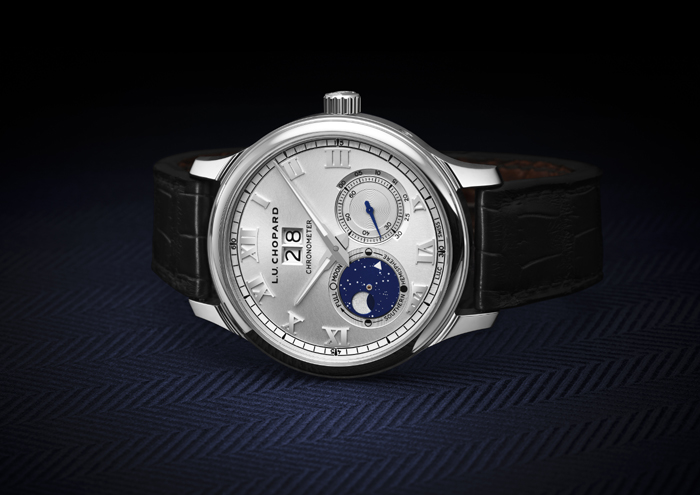 Back to my love of the moonphase functionality. When wearing a mechanical timepiece there is a physical connection between the wearer and the passage of time. As the body is in motion, so does the watch, both need each other to properly function. My watch tells me when Game of Thrones is about to start and I keep it powered and running. Thus a symbiotic relationship is maintained.  When adding a lunar complication the relationship is taken to a gig higher level and a connection between time and space is initiated. Chopard has really embraced that relationship and the details of the lunar part of the Big Date show it. All phases of the lunar cycle are displayed for both the Northern and Southern Hemispheres. Additionally, the Northern hemisphere displays the Big Dipper, while the southern features the Southern Cross.  The Lunar Big Date is COSC certified and two stacked co-axial barrels lend the watch 65 hours of power reserve. All of this goodness is housed in a modest 42mm case and will retail for $31,730.