Not sure when your favorite watch was serviced last? Thinking about buying a new watch? Maybe even a vintage watch? Searching around the Internet looking for the latest articles from the best watch blogs out there? Stop a moment and download the new, free Govberg OnTime app for your iPhone or iPad (android versions coming soon).
Govberg, a retail jeweler with nearly 100 years of history as a brick-and-mortar store, recently released its cutting-edge, all-in-one-place watch app for collectors and enthusiasts.Govberg OnTime offers real-time news feeds from the industry's leading media sources – including ATimelyPerspective, of course. It also offers a host of utilities for watch collectors to manage their own personal collections. Called "My Watch Box," this area allows you to enter data and then track that data, such as when watches were serviced last, warranties, and other important information.
Additionally, there is an entire section for streamlined buying, selling and trading new and pre-owned watches. In fact, Govberg Jewelers is authorized to carry a large number of top watch brands, and has one of the most extensive selections of exclusive and limited edition watches.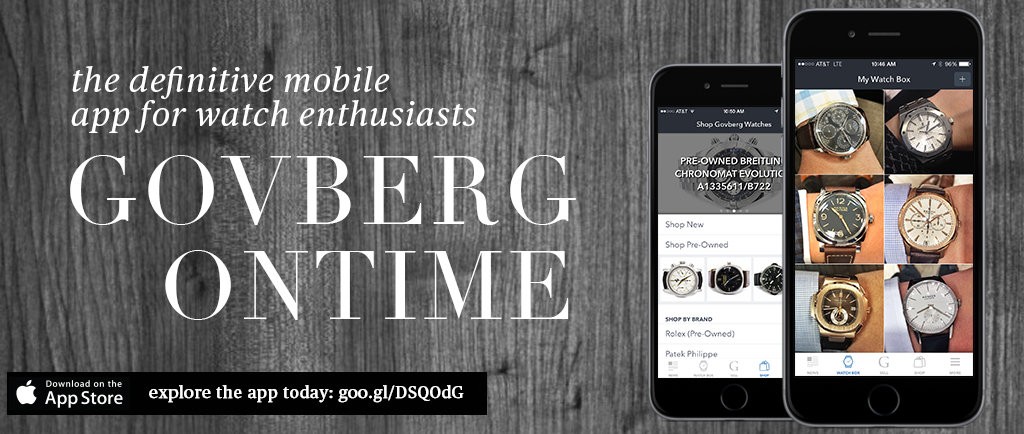 Because Govberg has been around as a horological retail store for nearly a century, users can count on top-notch service and reliability that is the same as shopping within a store. Danny Govberg, 54-year-old President & CEO of Govberg Jewelers, has an insatiable passion for watches and technology … inspiring the evolution of Govberg OnTime and merging the traditional charm of brick-and-mortar retail with the interests of the tech-savvy luxury consumer in an intriguing fashion.
"By embracing the power of technology, we deliver our clients, friends and watch collectors an experience that's fun and informative, with streamlined, practical utility and ongoing relevance," says Govberg.
I downloaded the app myself a few weeks ago when it was first announced. I have been using it and find it easy and user friendly. Govberg vows that the app will continually be upgraded and updated for free to stay on top of the needs of the sophisticated watch lover.  You can download the app by simply searching for Govberg OnTime.