By Ryan Walsh
With the prestigious Concours d'Elegance happening in Pebble Beach this weekend, we want to take a look behind the scenes at one of the finest cars in the world. Ever wonder what goes into the making of one of the best? Being almost 100% hand built, Rolls Royce puts very intense work into each and every Phantom.
Dating back all the way to 1925, the Phantom, and all Rolls Royces, have always embodied the essence of wealth. The newer Phantoms however, are built on one of the biggest aluminum chassis ever made, held together with 2,000 welds, which are all completed by hand. After the chassis is built, it is then shipped from Germany to the head HQ of RR, the Goodwood plant in the UK.
It takes up to five layers of paint, adding up to more than 100 pounds,  and with all the steps needed to paint, it takes a whole week, just for the body to look like that of a Rolls Royce should. The first step: two programmable robots, out of 4 in the whole factory, spray on primer, which gives the body resistance against UV rays and metal corrosion. The next step is color coating, followed by two coats of clear coat. So, what color is most popular? It's hard to say, since Rolls Royce offers 44,000 color codes to choose from. The final "coach stripe" is painted by hand, after the entire car
has been polished up into a mirror finish.
Along with a multitude of choices for the leather interior, there are up to 20,000 wood veneer combinations. After actual wood is shaped and formed to fit the interior of the Rolls, a finisher touches up the covering veneer that has different shades. Then, it is lacquered and buffed to give it a strong, lustrous finish. With bull hide laid out, they inspect all 11 pieces that will cover the interior. In fact, 450 cuts of hide are used during this 17-day process, to give the consumer the best possible results.
With all this luxury, a  comfortable ride is true; but with a 450hp 6.75L V12 bolted to an 8-speed auto , it has a 0-60 time of just 5.9 seconds, which is faster than most regular daily drivers. As the front and rear axle, the engine and trans, driveshaft, and radiator are put together, the shell drops on top of the running gear to be married.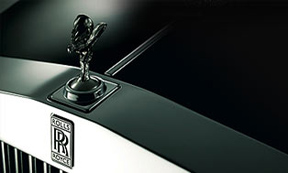 The glass is then carefully put on to the body. A tech separately checks the rotating platform to make sure it rotates without hang ups. After it gets the go ahead, the grille assembly is then mounted. At this point, the Phantom is not yet complete. It then goes through rigorous testing in every aspect a car should, before being released to the world.