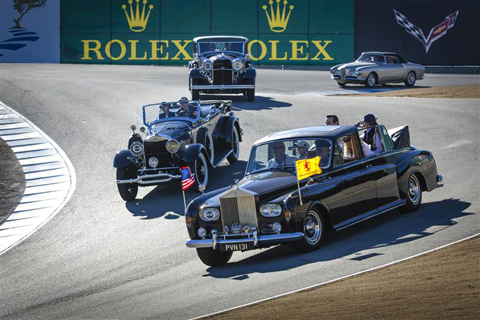 Today and tomorrow in Monterey, CA, the Rolex Monterey Motorsports Reunion is in full swing- with races on both days. During Classic Car Week, Mazda Raceway Laguna Seca is reserved for three days of historic automobile racing while the rest of California's Monterey Peninsula hosts a cornucopia of indulgent events for car lovers of every kind. This morning, before practice got underway for 500 cars entered in weekend racing at the Rolex Monterey Motorsport Reunion, a magical thing happened in the soft sunshine at the track, and it drove home—no pun intended—the reason this world-class race circuit exists.
For the first time in 10 years, the Pebble Beach Tour d'Elegance presented by Rolex included a lap around Mazda Raceway Laguna Seca as part of its traditional course that traces portions of famed 17-Mile Drive and traverses the nearby mountains and canyons of Carmel Valley. The annual driving event, which this year included over 200 elegant, oftentimes jaw-dropping, examples of automotive history in motion, is inextricably linked to the Pebble Beach Concours d'Elegance, another Classic Car Week event, in that the cars participating are among those vying for coveted "Best in Show" honors at the Concours' second-to-none juried show.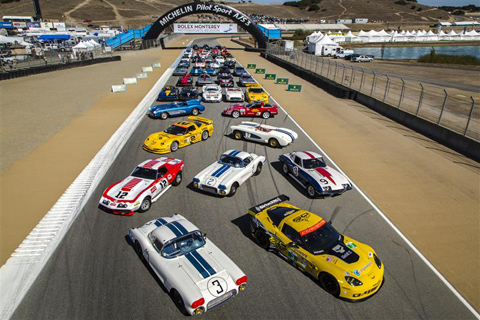 The Tour also underscores the early history of Pebble Beach and its popular Pebble Beach Road Races held on the narrow cypress-lined town roads—both paved and non-paved–from 1950 to 1956. When the road races came to an end after a fatal accident, it spelled the beginning of "Laguna Seca" as a new, safe haven for road racing. Now, over five and a half decades later, Mazda Raceway Laguna Seca maintains a stellar reputation as one of the most challenging circuits ever, with 2.238 miles of racetrack and 11 turns, including the renowned "Corkscrew," which features a five-story drop in elevation.
The highlight event this weekend is the Concours d'Elegance in Pebble Beach, held concurrently with Rolex Monterey Motorsports Reunion and culminating on August 18 with the winners. Stay tuned for winning information.