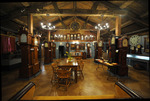 It's almost lunchtime at the more than 200-year-old home of the American Watch and Clock Museum in Bristol, CT, and those in the know hightail it to the Barnes wing. Inside, stately grandfather clocks stand beside gracefully carved tall-case clocks, while some 200 other clocks peer from shelves and cases around the room.
"Some people have described it as a clock forest," says Donald Muller, the museum's executive director.
But as the first clock strikes noon, the quiet forest image quickly vanishes, turning instead into a cacophony of sound. (Check out the video below for your first clock concert) The museum tweaked each clock's time to maximize the musical effect of the room's numerous chimes.
"We stagger them a little bit on purpose," Muller says. "You get a number of solos."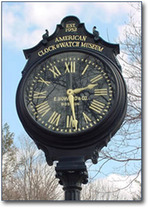 Every few seconds, a new clock is in the spotlight. Some chime boldly, some ring prettily and still others tick quietly but insistently in the background. Head to the room at 11:00 or 12:00 to experience the longest clock concert.
Of course there is plenty more to see at America's first horology museum. The main building, the Miles Lewis House, is an 1801 architectural gem that retains most of its original Federalist-era features. Additional wings bring the size to 10,000 square feet, enough room for a breathtaking collection of American manufactured clocks –with an emphasis on Connecticut-made watches.
Why Connecticut? Clock-making was once a big state business (ever heard of the Waterbury Clock Co., New Haven Clock Co. or Seth Thomas?). Local master clock-maker Eli Terry was among the first to craft interchangeable wooden clock parts that could be mass produced, à la Henry Ford. But Terry did it at the turn of the 19th century, 100 years before Ford's first mass-made automobiles — turning Bristol from a sleepy riverside town into an Industrial Revolution-era clock-making mecca that made clocks affordable to middle class Americans.
For watch lovers – not to be missed: the museum's display of Seth Thomas' jeweled watches from the late 19th and early 20th century.  Additionally, the research room allows the curious to pore through printed examples of older clocks and watches, and flip through old clock company catalogs.  Just one thing, visit soon: Time—no pun intended—is running out for the season, with visiting hours limited after Nov. 30. (December Hours: Dec. 1-4, 11, 27-30:10am-4pm.) Open other times in winter by chance or appt.) The museum officially reopens on March 26, 2011. http://www.clockandwatchmuseum.org/