There was a time that the only thing most people would think of if they closed theur eyes and heard the word "Montblanc" was a writing instrument. Well, some maybe thought of the mountain. But for years the name was synonymous with high-quality writing instruments. Then along came leather goods and a new image came to mind … next up – watches – -but for some, these may still be taking some time to assimilate. Here, Jean-Marc Pontroue tells of his plans to make the Montblanc watch connection stronger and as long-lasting as those writing instruments – and the mountain, as well.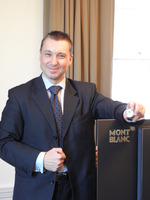 "Montblanc's focus for the coming five years is definitively on our watches. We already own 70 majority of the market share in writing instruments, so we see the growth potential in watches, and we see our customers responding positively to our brand. They know and understand the quality Montblanc carries."
Since Montblanc purchased the Minerva factory, it is creating its high-end Villeret and Rieussec watches there. These calibers are 100 percent made in house (well, except for a few screws) and at the very high end, they retail l for $60,000 to $70,000. Additionally, Montblanc still has its original LeLocle factory, where it's Star and TimeWalker collections are made.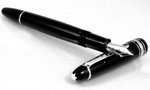 The plan is to focus strongly on one category of timepieces – the chronograph – so that Montblanc becomes easily recognizeable and identifiable with that concept and look.
"It is our goal in watches to make our own movements and to position ourselves as leaders in technology and design, much like we have achieved with the writing instrument category" says Pontroue. "Next, when people close their eyes and thinks of Montblanc, they will envision a chronograph."
As such, Montblanc has already delved deeply into the chronograph world – most notably with its Rieussec collection – named for the original inventor of the chronograph, Nicolas Rieussec. Of course the brand's Villeret, Star and TimeWalker chronographs—all in different price points and aimed at slightly different audiences – offer their own looks, and coming up: new high-tech materials, complex functions and edgier-designs.
"I can't share it with the public yet because we have our big unveiling at the SIHH in Geneva in January," says Pontroue. "But it will be very exciting and will underscore our chronograph commitment."
(NOTE: I saw the pieces and they are exciting. This collection is cutting-edge in design, technologically advanced and superbly made. Stay tuned in January.)