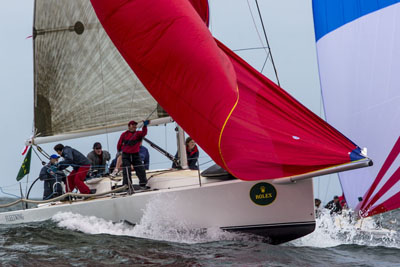 J/111 Fleetwing, owned and skippered by Henry Brauer of Marblehead, MA. It was an unseasonably wet, dreary day in Newport, RI, yesterday, but at least somewhere, someone was having fun. That somewhere was Rhode Island Sound where nearly 100 teams are competing in the New York Yacht Club Race Week at Newport presented by Rolex on the second day of the split-format event's final four days of buoy racing.
Dawn Riley (Oyster Bay, N.Y.), who along with eight Oakcliff Sailing Center trainees, helped guide Art Santry's (Oyster Bay) Ker 50 Temptation-Oakcliff to the top of the scoreboard in IRC Class 3 after two victories in two races today. One race circle hosted four IRC classes, while another hosted one-design racing for J/109, J/111, Beneteau 36.7 and Swan 42 classes. Due to a light-wind forecast, the Swan 42s elected to resume buoy racing today rather than compete in their originally scheduled distance race, but in the end, they—like the other classes—were met with a hearty 12-15 knots by mid-morning, when the heaviest rain showers had moved on. Large swells also figured in as the winds tapered off to 8-10 during the course of the afternoon.
Today, three more new classes join the actio: Melges 32, J/105 and PHRF, the latter of which is sailing "navigator courses" instead of around the buoys.