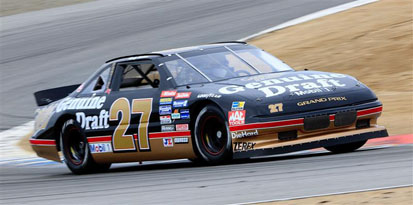 Rusty Wallace's 1989 Winston Cup Champion road car; Photo – Mazda Raceway Laguna Seca / Allan Rosenberg America's most popular form of motorsports will nudge its way onto the vintage race scene this summer when 27 historic stock cars participate in the Rolex Monterey Motorsports Reunion. Scheduled for August 17-19 at Mazda Raceway Laguna Seca on the beautiful Monterey Peninsula, the event will feature the Shelby Cobra as its traditionally feted annual marque, but the addition of the stock cars promises to add a new dimension to the hundreds of sports and race cars entered in the historic race. We here at Atimelyperspective went with Rolex to last year's events and shared much news about it here.
This year, familiar brands such as Chevrolet Monte Carlo, the much-loved Chevy Nova, Ford Thunderbird, Buick Regal, Pontiac Grand Prix, Oldsmobile Cutlass and others will recreate a rich history that was made famous by superstar drivers. The group is limited to 1974-1990 stock cars with disc brakes and includes the 1988 Daytona 500-winning Buick Regal that was driven by Bobby Allison; Richard Petty's 1979 season-winning Chevrolet Monte Carlo; and the 1989 Pontiac Grand Prix road car that Rusty Wallace used to capture the 1989 Winston Cup Championship.
The stock car group is one of 17 race groups at the Rolex Monterey Motorsports Reunion, which this year celebrates the 50th anniversary of the Shelby Cobra. In honor of the anniversary and the late Carroll Shelby, a group of 45 Shelby Cobras that once competed in the 1960s will line up on the grid in what will be a thunderous start to their race.  This is one Reunion you don't want to miss!