Golf great Davis Love III – six-time Ryder Cup player, and holder of 34 professional titles, including 20 PGA Tour events – this year serves the 2012 US Ryder Cup Team Captain, a position he says is a both an honor and a welcome challenge. He also has just become the newest brand ambassador for Omega timepieces, the brand that is the Official Timekeeper of the Ryder Cup (to be played in Medinah Country Club September 25-30) and of the PGA. Here he shares his thoughts on golf, Omega and timing.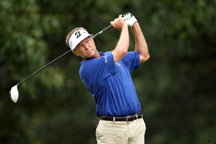 Love says that his toughest challenges as Captain of the Team are the team player selections and the motivation he has to deliver. "It's going to be easy to pick four great golfers and tell them they're in, but then I have to go back and tell another four or five great golfers an friends, that they didn't make the team," says Love. "I get asked about the Ryder Cup almost every hour. I hope I can be as motivational as I need to be. We need to go in there and play golf, not try to win. Hopefully that win will come, but we need to relax and play."
To celebrate Davis Love III coming on board, and its involvement with The Ryder Cup, Omega has created the Omega Seamaster Aqua Terra "Captain's Watch." Based on the Omega Seamaster Aqua Terra chronometer timepiece, the special Captain's Watch will be created in a limited edition of 17 pieces for the US Ryder Cup Team players, each will have the player's name engraved on it. There is also a version for sale to the public of the 41.5mm brushed and polished stainless steel Captain's watch ($5,500). Love had a hand in helping to select the watch colors, which features red and blue on the dial in honor of America – Love's home and the country for which the Ryder Cup team plays. "I saw five versions in the making and we selected the color choices. It was fun being a part of seeing this watch come about," says Love.
With Omega's proprietary co-axial movement and the materials this watch is made of, it is, according to Stephen Urquhart, president of Omega, "Powerful enough and well protected enough in its movement construction, that it can be worn while playing golf."
Love says that while he realizes the watch is powerful, he doesn't feel comfortable wearing it while
golfing, as he has never worn a watch while playing. He does, however, intend to wear it regularly and is very proud of it.
Previously, unbeknownst to Omega until the making of this watch, is the fact that Love already owned several Omega watches before the two announced their partnership. Love, who admits he has always been a watch fan, says his favorite watch in his collection is one that is near and dear to his heart. "I have a gold Omega that belonged to my father. My brother and I share it, taking turns with it, but it is very special to me."