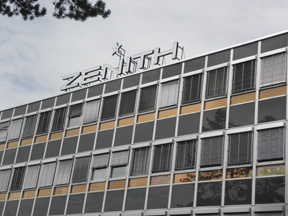 Recently, we had the opportunity to tour the Zenith Swiss Watch Manufacture – a brand long known for its precision watchmaking and visionary thinking. Since 1865, Zenith has been making watches that keep pace with the times. It is the brand behind the famed El Primero movement and a brand closely associated with aviation for more than a century now.
Currently, the Manufacture is under renovations, in an effort to expand and modernize certain buildings in time for the brand's 150th anniversary in 2015. Our tour of the workshops in LeLocle included an up-close and personal look at the conception, development and making of the movements and finished watches. Much of the precision work is done by numerous state-of-the-art CNC machines—including the cutting of all of the base plates and bridges – 24/hours a day, five days a week.
Then, the hands-on work kicks in – with watchmakers building the timepieces, and special artisans donig the meticulous hand finishing. It is all a labor of love to bring time full circle.