Recently, when I was traveling with IWC to Portugal for the unveiling of the newest Portuguese watches – the IWC Portuguese Yacht Watch and the IWC Tribute to Portugal – I had a very distinct pleasure that no other journalist can claim.
Spending a day aboard a grand sailboat – I realized several things:
a)      If I were to navigate in yesteryear's times– we would have been hopelessly lost at sea – or worse- shipwrecked on some terrible reef and been goners for shore! (Oops –for sure). While we received great lessons from IWC on board their sailboats regarding coastal and celestial navigation and dead reckoning – I still needed a lot of math skills for calculations I wasn't prepared to make. Additionally, the still-required-to-be-on-board sextant is a cool but cumbersome tool! And  if you're prone to light-induced migraines like me– looking into the sun through the sextant to figure your location against the horizon isn't really the greatest thing – could render you useless to the crew for hours to come.  Ok – so next —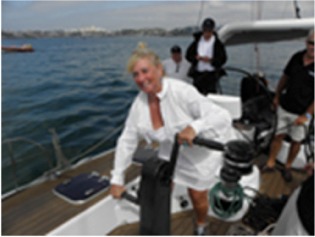 b) The man-of- war jelly fish in the Atlantic Ocean in late September in Cascais are monstrous and one does not want to head into the water there!  So when you're tacking the boat – steer clear of the fishing nets that abound in the water because if you catch one of those, someone's gotta go in and unravel it from the boat!!! I did fine with my steering and tacking – didn't catch any nets, but had a heck of a time with the winch.
Finally and most importantly – I had the pleasure of wearing the new IWC Yacht Club Chronograph side by side with my vintage IWC DaVinci ladies chronograph on the trip. My watch is a mid-1980s DaVinci that is absolutely a wonder and one of the few ladies watches the brand used to offer (though obviously not with an IWC movement). Then I got to don a grand new Portuguese Yacht Club watch on the other wrist!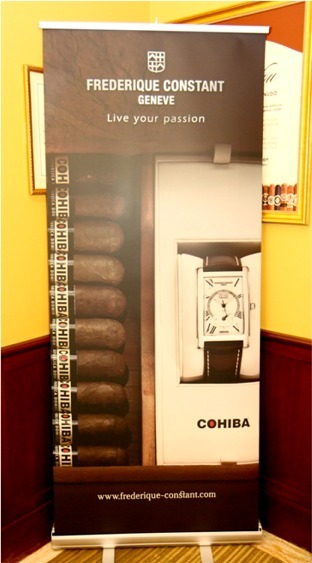 The new 45.5mm Portuguese Yacht Club houses the rugged 89360 IWC-manufactured column-wheel chronograph caliber that is water resistant to 6 bar and offers a fly back function. The beauty of this movement is two-fold: it features a single analog display on one subdial to show the recorded times of a minute or more for a very easy-to-read chronograph; extended use of the chronograph has little effect on the movement's power reserve. Designed to withstand the rugged seas, the automatic watch movement is wound by the IWC double-pawl winding mechanism, wherein two pairs of double pawls exert the direct pull/push movement on the click wheel. In this watch, too, a newly developed rotor spring bridge offers protection against bangs and impact from all sides –making rubber buffers between the movement and the case obsolete.  It is the first Portuguese watch of feature luminescent hands and indexes for easy viewing under a night sky.
So verdict in: While I love my Da Vinci – it's simply too small by today's standards!!   Watches have come a long way in all these years and while we try to do the right thing and wear the brand's Alma Mata – well – sometimes it falls just a little bit short. Better bet – that great new Portuguese Yacht Club – or – even better- try a Portuguese perpetual calendar and be on time in style for centuries to come!!!!