I had the extreme pleasure recently of joining Audemars Piguet in St. Tropez – to go sailing with the brand on its newest venture – L'Hydropte're.
Those of us who know Audemars Piguet know this cutting-edge luxury brand has always been on the fast track. This is especially true with its involvement with new materials, new technology and high-tech worlds of sport sponsorship. After all, this was the daring company that took the chance and sponsored a land-locked country – the Swiss Team Alinghi – in its race to win the America's Cup.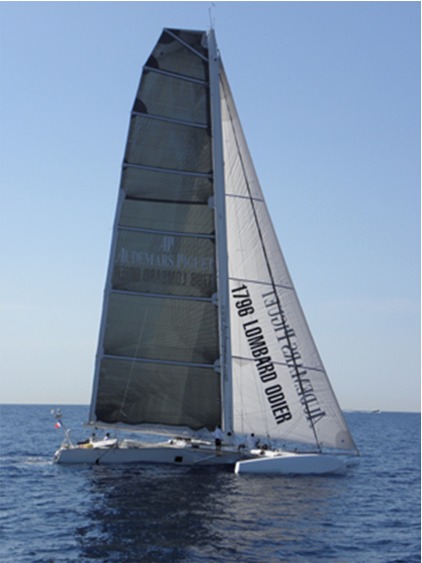 Thus, it came as no surprise to me when just about a year ago Audemars Piguet announced its sponsorship of L'Hydropte're – the world's fasted sail craft. Only Audemars Piguet, with its innovative forged carbon cases and advanced escapements, could understand the cutting-edge technology and forethought that could go into such a concept as this extreme flying sailing craft. Literally translated, Hydropte're means flying boat.
With the pioneering spirit of Audemars Piguet and the same spirit driving the conceiver of the Hydropte're, the partnership seems a perfect match.  L'Hydropte're was the dream, concept and now prized fruit of self-taught designer and skipper, Alain Thebault, who says he thought of this his whole life. A boy who really didn't know his parents, and had a rebellious, singular way of thinking, Thebault said he would go to school shoe-less – refusing to conform. Talking with Thebault for hours aboard Hydropte're, and later at dinner, was truly fulfilling. The man has written several books about his experiences in life and at sea, and about bringing his dream from mind to reality.
The concept for Hydroptere was actually born in 1975, but took a full 20 years to materialize – thanks to Thebault's fortitude. It was not until October 1, 1994 that Thebault and his crew finally made the first prototype fly. From that milestone on, the dream began to become a reality – but not without accidents, mishaps, and heartaches in between.  For a time in his life, he even admits sleeping in and living out of his car.
"I breathed, ate, lived to make this boat a reality," says Thebault. "It was my passion to be free, to sail on the seas I loved, but to fly free like a bird. I knew I could accomplish this."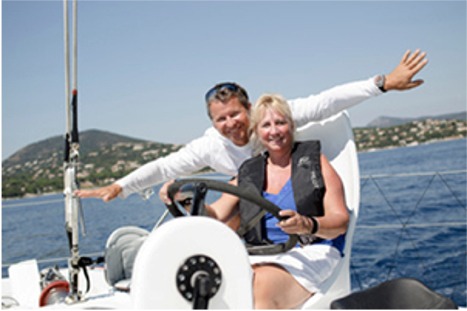 (Skipper Alain Thebault with Roberta Naas on L'Hydropte're in St. Tropez)
What Thebault accomplished is a sailboat that many others – including many a skipper from the America's Cup races – would love to not only get a ride on, but also learn the engineering secrets behind. The sailing vessel has three hulls that act as underwater wings. They are 60 feet in length and still the sail boat is much lighter than a typical boat of its size. But it took Thebault 20 years of persistence and unflagging belief to bring the project to fruition.

 It was finally a banker who hooked him up with Audemars Piguet, suggesting the two might be a match. Prior to that Thebault had even lost a couple of crew members who bailed out after a capsize at sea at high speeds convinced them this particular vehicle wasn't for them.
It was only the past few years, with Audemars Piguet's sponsorship and with Boeing on board to build certain parts of carbon fiber and other aeronautical materials, that the project finally took on new dimensions and the team began setting speed records. Now, when the wind picks it up, L'Hydropte're flies through the skies (or the water) at speeds of as much as 50-plus knots per hour. In fact, in 2009 Alain Thebault and his crew established a new nautical mile speed world record: 50.17 knots.
With Audemars Piguet's sponsorship of L'Hydropte're, the boat is planning to continue setting world records as it prepares to make first trans-oceanic voyages across the Atlantic and Pacific and then world expeditions.