Be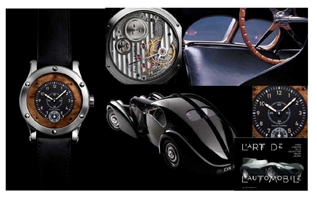 ginning April 28 and running through August 28, 2011, at  The Muse'e des Arts De'coratifs in Paris, France, is one of the most unusual  and distinctive exhibits that watch and car lovers won't want to miss: "The Art of the Automobile: Masterpieces of the Ralph Lauren Collection."
Iconic American fashion designer, Ralph Lauren has assembled one of the world's most impressive  and prestigious  car collections –just a portion of which will be on display in Paris. The cars in the exhibition run the gamut from the 1930's to present day, consisting of 17 outstanding automobiles selected by curator Rodolphe Rapetti. They outline the main phase of European automobile history and demonstrate the art form created by Bugatti, Alfa Romeo, Bentley, Mercedes-Benz, Jaguar, Porsche and Ferrari.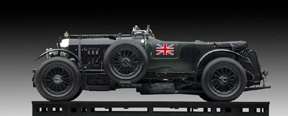 Blower Bentley 1929Ralph Lauren's collection of cars has been patiently assembled with extraordinary performance and beauty as the common denominator. Like all that Ralph Lauren does, the collection is a perfect example of elegance, art and precision. Highlights of the exhibit include the Blower Bentley from 1929, The Bugatti 57 SC Atlantic Coupe, 1938, the Ferrari 375 Plus, 1954 and a Mercedes Benz 300 SL Coupe from 1965, as well as other gems. The exhibit is put on display by Jean-Michel Wilmotte, who is also incorporating sound and kinetic appeal via films and recordings.
It is from these cars that Ralph Lauren was inspired to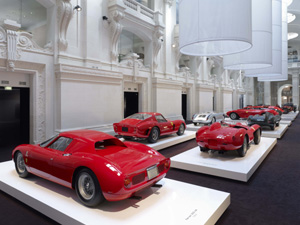 design his Sporting Collection timepiece.  In fact, the Sporting Watch by Ralph Lauren Watch and Jewelry Co  was inspired by his   1938 Bugatti Type 57SC Atlantic Coupe.  The timepiece design reflects the car's interior dashboard and trim, and features a unique dial design in rich elm burl wood, and a black leather strap to emulate the car's leather seating.  The watch houses the caliber RL98295, 156-part mechanical manual-wind movement made by IWC for Ralph Lauren. The Ralph Lauren Sporting Watch with Wood Dial retails for $13,200.