The one thing I have learned through my many interviews with watch collectors around the world is that there is no set number of watches one looks to collect. It's all about finding the right watches. But for Abbas, Middle East watch collector, there seems to be no limit. Thus far, he has collection that is estimated to be at just about 1,000 platinum and white gold watches of distinction. ("I haven't actually counted them all," says Abbas.) Here, he shares a bit about his collection and buying.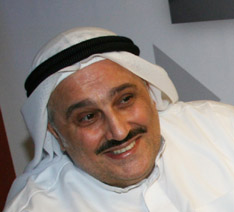 photo credit: Emed Al Wahsh"To me, the most important thing is that I must like them because I actually wear them," he says. "So many collectors buy a $500,000 watch and leave it in the box or the safe. I wear mine. I enjoy the pleasure of seeing it on my wrist. If it breaks, like when I dropped my Patek skeleton and it broke, they will refurbish it."
Abbas's collection comprises, naturally, multiples of many important brands, but highlights include the Ulysse Nardin Astrolabium #12, a custom-made Harry Winston Opus 9 with blue sapphires on it ("Blue is my favorite color so I have lots of blue in my collection."), the Vacheron Kalla on strap ("I enjoy wearing the diamond pieces sometimes."), Girard-Perregaux with Three Gold Bridges ("This is one of the first tourbillons I ever purchased. I was so impressed with the intricacies of the movement." ), and several Patek Philippes, including the enamel world time, which is coming to me soon, a cloisonné custom made enamel clock and a set of four enamel falcon watches ("on order.").
Abbas acquired his taste for watches at a young age. Both his father and uncles were in the watch business. "I was a kid and I saw a watch I liked. It was $20. When I was 15 I bought a Bulova Accutron just because I liked it. My father thought I was crazy. He told me to wait until I could buy a Patek. The first luxury watch I bought was an Audemars Piguet. But when I bought my first Patek, I knew my father was right. This is the only brand that I could buy almost anything from."
Abbas recalls nearly 30 years of collecting as though he is in a candy store. "The only thing I hate is sometimes I have to wait. I waited a year for the Opus 9, and I have waited 2 to 3 years for some of the other watches. If I wait too long, I tend to lose interest."
Since Abbas doesn't buy on the vintage market, there are a few limited editions that got away: An Audemars Piguet Perpetual and a Patek Philippe Jumping Hour, to name a couple.
What doesn't he have that he's got his eye on? Hautlence HL2.