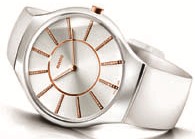 This past weekend, we had the wonderful experience of traveling with Rado to St. Maarten, where the brand opened its very first America's Boutique – adjacent to Joe's Jewelry along Front Street, the main shopping street, in Phillipsburg. Additionally, the brand officially launched the incredibly alluring True Thinline ceramic watch.

Since 1986, when Rado launched its first ceramic watch, the brand has been known internationally for its innovative work in high-tech ceramics. Today's True Thinline is the thinnest high-tech ceramic watch in the world. Its movement is as slim as a credit card, and the case measures just 5mm thin. It is available in black or white, in two sizes, with (Jubile') or without diamonds. The large Jubilé version boasts rose gold indexes accentuated by 96 tiny diamonds, totaling .0972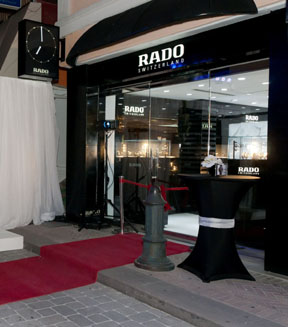 carats. The smaller version, featuring 60 diamonds, offers .036 carats of elegance. Each piece in the collection comes with a sapphire crystal dome, a super thin rubber strap and a ceramic buckle, and retails for between $1,600 and $2,600. We've covered this watch before, and you can read more and see a video about it here.
The event, attended by the Prime Minister and Deputy Prime Minister of St. Maarten, witnessed more than 100 people exploring the new boutique and the world of Rado. The brand even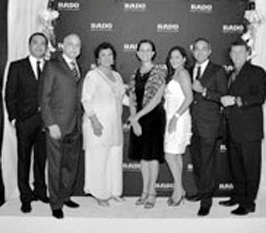 From left to right: Joe's Jewelry owners, Ajay Baharani, Prakash Baharani, Gina Baharani, Prime Minister Sarah A. Wescott-Williams, Joe's Jewlery Manisha Baharani, Adesh Baharani, Rado's North American President, Robert Brennan.brought in one of the local children's bands for entertainment – demonstrating a true island flavor. The children performed with single, double and triple-drum instruments, as well as other musical instruments and played a variation of local music and holiday carols.
Rado is considered the pioneer in the use of high-tech ceramics in the watchmaking world. Today it is the material of choice for almost all of the Rado collections. The Rado Boutique is a beautiful store, operated by Joe's Jewelry International, that showcases the brand's collections. Joe's is a 31-year-old family- run leading watch retailer on the island, carrying approximately 30 of the top brands.