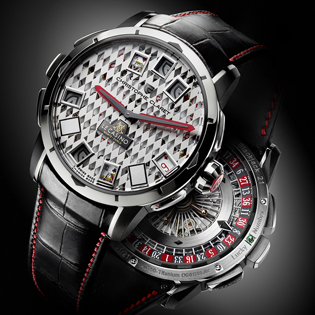 We've covered Christophe Claret many times before, with his innovative timepieces, and earlier this year, we brought you the 21 Blackjack watch (read about it here and see a video here) – a superb piece that offers 21, roulette and dice! Now, Christophe Claret has partnered with the world-famous Casino de Monte-Carlo. The collaboration will be marked by a celebration on December 9th and 10th during the major roulette tournament arranged by the Casino de Monte-Carlo. The winner will receive a unique new Christophe Claret 21 Blackjack watch.
The new version is set with baguette diamonds and rubies and is stamped with the Casino de Monte-Carlo logo. This marks the first time in the casino's long and prestigious history that it has offered a watch for the tournament winner. To further celebrate his role, Claret is also unveiling his
second version of the 21 Blackjack in a model that is similar to the unique prize watch. Adorned with gemstones and featuring a special dial with Casino de Monte-Carlo logo, the watch is being created in a limited edition of just 21 pieces. It – like the other 21 Blackjack watches that you can read about here – house an incredible self-winding movement with 501 parts. For those in Monte Carlo next weekend, an exhibit of Christophe Claret timepieces is open to the public at the Hotel de Paris nearby the Casino, on Saturday, December 10, for a very brief time in the evening.