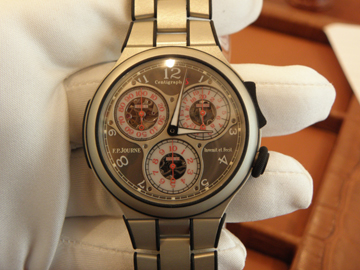 Recently in Geneva, I had the opportunity to visit the amazing FP Journe workshops and to view the watchmaker's newest creations. A complete deviation from his usual ultra-classic and elegant pieces, the new watches are sport watches. Yes, sport watches, and they utilize high-tech, innovative materials and ground-breaking technology. The first in the new lineSport series, the Centigraphe Sport, was released in June in Hong Kong, and the second is being shown in New York on December 1; the world premiere of the pieces is in January 2012 in Geneva.
The two watches in the new Sports line series are made entirely of aluminum — case, bracelet and movement — which is entirely new for F.P. Journe who has been building his movements in 18-karat rose gold. The use of aluminum makes the pieces ultra light weight (just 55 grams for the case). What's more, the first watch is equipped with a bracelet made of aluminum and rubber inserts in a patented design that took Francois-Paul Journe nearly two years to design
and develop. The chronometer chronograph timepiece with rubber/aluminum bracelet is the result of a piece Journe made in response to a client request from a professional sportsman and a collector who wanted an ultra light sport watch but with a high horology movement. F.P.Journe didn't want to work in titanium, having already done so for a limited series, but needed a light–weight alloy for sports. The aluminum alloy has two special patented treatments to make it scratch resistant and hypoallergenic. The second model, the Octa Sport 2, is an automatic watch that features a a rubber-coated clasp and a movement made of the specially treated aluminum alloy. The price of the watch has not yet been established.
Journe, who won the Grand Prix d' Horlogerie seven times, has workshops in downtown Geneva, where the brand creates its exclusive 900 watches per year. Each watch takes between five days and four months to build, depending on its complexity. The workshops consist of research and development, case making, dials and assembly, all executed by 65 watchmakers and artisans. All of the decorating and polishing is done by hand. In contrast to the sport line, the most complex timepiece built at F.P. Journe is the Grand Strike, of which just four are built per year – each by a single watchmaker. The Grand Strike retails for 705,000 Swiss Francs (it is sold only in Swiss francs everywhere in the world to compensate for currency fluctuations).