Atimelyperspective spent this past weekend with Louis Vuitton in San Diego – for the final races in the America's Cup World Series. Here the brand unveiled a revolutionary new yachting watch that times the five minutes (instead of the heretofore indicated 15 minutes) before the start of the races. The watch signifies the brand's position as the official timekeeper of the America's Cup. Louis Vuitton, of course, has spent decades in the sailing arena – especially as the official sponsor of the Louis Vuitton Cup races – the final challenges leading up to the America's Cup. The 34th America's Cup consists of three phases: the America's Cup World Series – which we watched the final regatta races from the USS Midway aircraft carrier; the Louis Vuitton cup and the America's Cup – the races for which will take place in 2013.
To celebrate its involvement as the official timer for the races, Louis Vuitton has created two new Tambour Regatta America's Cup chronograph yachting pieces in the Louis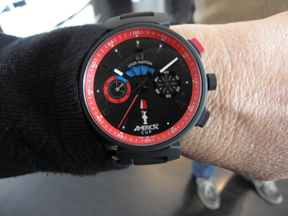 Vuitton America's Cup collection. Made in La Chaux-de-Fonds, Switzerland, in the brand's workshops, the watches feature 44mm cases made of rubber-clad steel, and boast bold red against the black dial and case for striking appeal. One watch is an automatic, created in a limited edition of 720 pieces, housing a Dubois-Depraz movement with regatta functions of countdown (5 minutes) and flyback. The second watch is a quartz piece, created in an edition of 1851 pieces with regatta functions of countdown between one and 10 minutes with sound indications.
Also participating, thus far, in the America's Cup races are several brands that are sponsors of teams. Among them: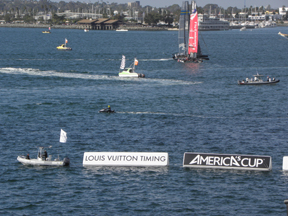 Corum, TAG Heuer, Omega and Hublot. Stay tuned for more information on the America's Cup and the watches that salute it.