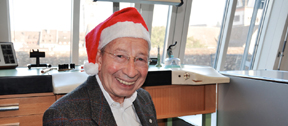 For the Holidays, from our friends at IWC, a special interview with Master Watchmaker Kurt Klaus – inventor of IWC's famous perpetual calendar with century slide. Kurt Klaus spend more than 50 years with IWC, and his designs include the perpetual calendar with moonphase and easy-to-use crown settings, as well as the Da Vinci Perpetual Calendar Edition Kurt Klaus. The design of the perpetual calendar was a feat of watchmaking genius that paved the way for IWC's entry into the world of Haute Horlogerie. Here, Klaus discusses his thoughts on complicated watches.
Q: "With the creation of the Grand Complication, IWC was catapulted in the ranks of true haute horlogerie. Could you explain why this masterpiece marked such a special point?"
DaVinci Perpetual Calendar Kurt Klaus, $24,000.Mr. Klaus: "Everything in a watch beyond the noting of hours, minutes and seconds is a "complication". To combine a chronograph, a minute repeater and a perpetual calendar in one watch, therefore, was an incredible achievement for the engineers and watchmakers from Schaffhausen. Only very few companies are even able to master the greatest and most demanding innovations in watchmaking. I am very proud that IWC is among them."
Q: "In the watch world it is well known that you invented the legendary IWC Perpetual Calendar, which took endless hours on the sketch board and on the actual prototypes before it came to life. How did you feel when you finished the first pieces, and what was the reaction when it was presented?"
Mr. Klaus: "At that moment and in the following days- there was no great sensation. I didn`t imagine that my invention would have success in the future, in fact. The real moment of happiness came at a later stage, when Mr. Günther Blümlein, at that time CEO of IWC, invited us to dinner to celebrate 500 Da Vinci Perpetual Calendars, which were produced then as a special edition. Then I realized what we had achieved. And the rest, as they say, is history."
Q: Who was your watchmaking inspiration when you were young and starting out?
Mr. Klaus: "In 1956, I had my job interview at IWC with Albert Pellaton, who was at the time Technical Director at IWC and creator of the famous Pellaton winding system. Pellaton told me that an IWC watchmaker has to be more than just a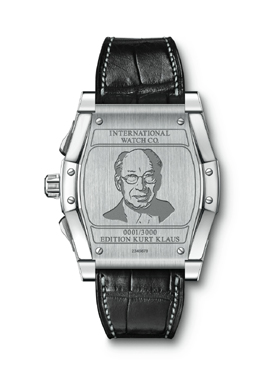 watchmaker, and that I had to do my best to achieve that. Following that interview, I learned that through his work he was the perfect role model for his imparted wisdom, and that he expected nothing less from anybody else. Even 20 years later, while developing for IWC, I often think to myself: what would Albert Pellaton do?"
Q: What would you like to wish for IWC fans during the holiday season?
Mr. Klaus: "First: I wish you happiness, health and all the best for the holiday time and the next year and second: may many of your wishes and dreams of the wonderful IWC timepieces come true. Sometimes, you have to patiently wait – but when you finally get that one masterpiece you always wanted it`s a really magical moment."