NBA player Dwyane Wade is all about being on time. This Olympic Gold Medalist and seven-time NBA All-Star has been an NBA Finals MVP, and holds a host of other titles and achievements. He loves basketball, and is a self-proclaimed watch lover. Thus, it comes as no surprise that Wade would join forces with luxury watch brand, Hublot, to design a watch that bears his name and further underscores his commitment to Miami and his team. The Hublot Limited Edition King Power D-Wade watch was unveiled recently in Miami and we got a chance to talk with Wade that day about the 48mm micro-blasted ceramic watch with its prominent "3" on the dial (Wades Miami Heat number), and his involvement with Hublot. (Excerpts from Ocean Drive Magazine)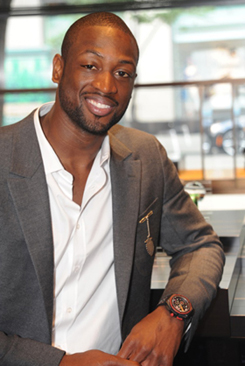 Q: Did you actually have a hand in designing the watch?
DW: "I was very involved in the design. In this watch, I'm rocking the Miami Heat colors; this is part of my legend, my DNA. It's also really diverse, like me. I wanted something I could wear in shorts, or in a suit, something that blends both basketball and business worlds together."
Q: How does time play a role in your life?
DW: "Time is the most important thing to all of us. The clock starts ticking when you are born and it keeps going. Time is the one thing that you just can't get back, so it is invaluable. This is a universal thing. I live on a structured schedule in my work and in my home life. Everything is timed to the minutes and if anything I am early or at least I always make sure I make sure I am on time. I make sure my family is, too. My kids have a structured life. In my house, we all do everything according to exact times."
Q: What made you team up with this brand?
DW: "I used to wear watches before Hublot — the bling type. I really like watches, they make the outfit. As I got to learn more about watches, I started liking different things. I started talking to Jean-Claude Biver of Hublot a few years ago, and the more we talked, the more I liked what he and the brand stand for. We share similar values and ideas. They agreed to donate a portion of the proceeds to my foundation, too, and that's great."
Q: Tell us about starting the Wade's World Foundation? (that provides support to organizations that promote education, health, etc. for children in at-risk situations)
DW: "In a sense, my foundation was born back when I was a kid. I used to always hear about people going back to communities and doing things to help. I lived in a neighborhood where nobody ever came to talk to us, and I thought that if I ever had the opportunity to be one of those guys, to give back to my community, I would do that. I never lost sight of that vow."
Q: Your watch retails for $24,700, what do you think of this price?
DW: "It's not too expensive. People who know and want a good watch can afford this, and, besides, unlike cars, watches don't depreciate in value, they keep their value."