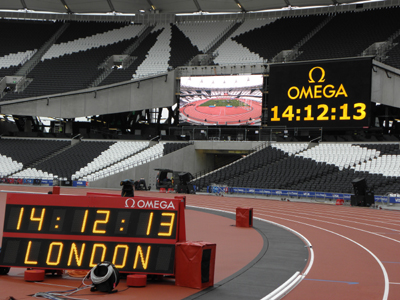 Standing on the field of the Olympic Stadium. photo credit: R.Naas A couple of weeks ago we got an amazing behind-the-scenes tour of the new London Olympic Stadium and Park where, in just 35 days a host of amazing events in the London Summer Olympic Games will begin. This was a rare and exclusive opportunity to view what few others in the world get to see: how the most important games are timed.
The timing, done by Omega –as the Official Timer and a key sponsor, is truly a feat to behold. Of course, Omega isn't new to timing the Olympics; this year marks the 25th time the brand is serving as the Official Timekeeper, a role it first started in back with the Los Angeles Games in 1932. Still, the brand continually works with athletes and with the official Olympic Committees to regularly improve timing capabilities to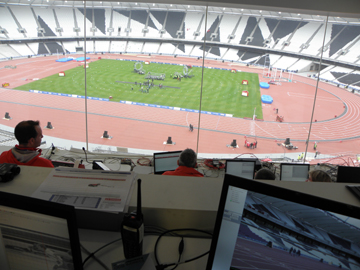 Inside the control tower of the Olympic Stadium. (R.Naas photo)ensure precision and undeniable accuracy.
For Omega, the Olympic Games are not just about timing, they are about technology. No longer are a bunch of men standing at the race's end clicking a stop watch. Now, cameras take thousands of pictures from the beginning to the end of one single race. Technology that the brand has developed allows timing to 1/10,000th of a second – especially since in some instances, that close of a margin may be needed.
In fact, in track, where a runner's win is calculated the moment his collar bone is detected crossing the line, many racers can have the same actual time – but only one is the winner, second- and third-placer. This is where those tiny fractions of a second, along with immediate digital photography, come into play.
The enormous amount of data handling that Omega tracks and delivers daily during the games is incredibly. In fact, the brand brings 450 on-site professionals (and trains another 800
Inside the Velodrome. (R.Naas photo)assistants) to the Games, along with 420 tons of equipment (including nearly 400 different scoreboards) and miles of cable and fiber optics. It is all a precise science that delivers immediate information from the fields (or aquatic pools, velodrome or other arenas) to the tower — where the winning call is made — and then to the On Venue Room where that information is disseminated to the press and public within 3 seconds of the races end.
Each and every year, new developments are unveiled by Omega, which works closely
New starting blocks for Omega timing. with athletes to determine their needs and concerns. This year, the brand unveils a new starting block timing system for field, a new touch-pad system for swimmers, and an amazing new Quantum Timing system for swimming and bicycle racing in the Velodrome – promising even more exacting timing of the world's finest Games. (Stay tuned for more info on the GAMES and Omega's role in the coming days)