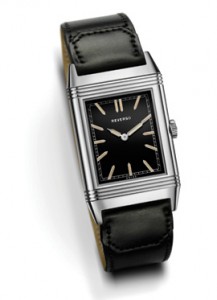 If you love vintage fine timepieces, and have a craving for all things luxury and custom designed, this one is definitely for you. You may recall that we wrote several times over in the past few months about the new Jaeger-LeCoultre Grande Reverso Tribute to 1931 timepieces – released in honor of the watch's 80th anniversary. The piece is so vintage perfect that it doesn't even have the brand name on the dial, only the watch name, "Reverso."
Well today, at an intimate luncheon in New York, Jaeger-LeCoultre unveiled its newest limited edition Tribute to 1931 US Edition timepiece – a somewhat edited version of the recently released models available to the rest of the world. The new U.S. Tribute to 1931 Reverso Limited Edition is different in several important ways:  the Reverso logo is in the same typeface as the original 1931 Reverso font; the markers are a natural, light tan colored hue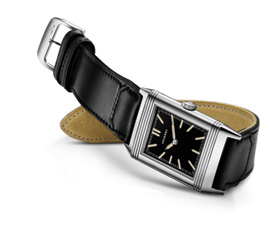 (instead of white) in luminescent material to offer a vintage appeal; the hands are slightly differently shaped.
However and perhaps most importantly, this watch is saddled with a handmade strap.  Not just any strap, either. In honor of the birthright of the Reverso — originally made for polo players – the strap is hand created by the Fagliano family brand in Argentina – arguably the world's foremost maker of exclusive polo boots. In fact, the fifth-generation family boot makers custom fit, measure and make just between 80 and 90 pair of boots a year for discerning clientele such as Adolfo Camiaso.
Each watch strap – and remember, just 100 straps per year are being made this year  — is custom cut, tanned and sewn.  Each strap is hand tailored of cordovan leather at the Fagliano manufacture in Argentina and demonstrates the prowess of the nearly 120 year old company. According to Eduardo Fagliano, who was at the luncheon today, it takes almost a full day to make just one strap. Eduardo was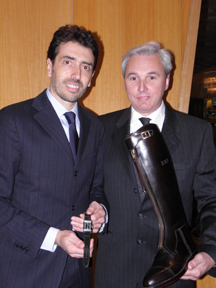 JLC's Phiilppe Bonay, Eduardo Faglianothe man who designed the look of the strap for the U.S. edition – and he  carefully incorporated some stitching and overlay designs that bring the watch, its polo heritage and the top-quality leather making full circle. The strap back will carry the stamp "1931-2011" but the strap models will not be numbered.
The watch will sell for $7,250 – and is expected to sell fast.  Better snap one up because believe me, this strap is one of the most superb to be found in the watch industry.