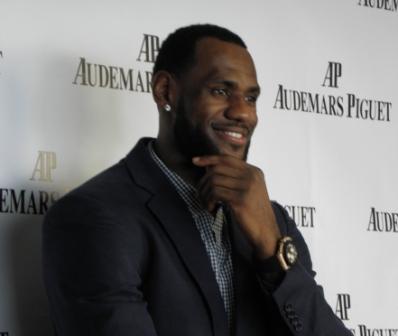 Just as Audemars Piguet barely closed the book on the decade-long relationship with Arnold Schwarzenegger and introduced The Legacy this year, the final watch in a seven-series success story, this legendary brand brought a few select journalists and guests to Miami this weekend to announce the appointment of NBA Star Lebron James as its new global ambassador.
"We both have so many innovative ideas," says LeBron James "that I am certain the partnership will be strong, from the watch we will create to the children we will help in our efforts." (See A Moment In Time: LeBron James)
The plan is for James to represent Audemars Piguet, the oldest watch manufacturer still in the hands of its founding families, around the world. Additionally, the two will collaborate on a very special limited edition watch that is still under wraps.
"I am excited to collaborate with AP on this exclusive timepiece; it will be the ultimate symbol of our partnership. We haven't started working on it yet but I am certain when we do it will have distinctive looks that will make it an Audemars Piguet LeBron James watch."
Proceeds from his timepieces will be donated to children's foundations such as the Boys and Girls Club of America and other causes through his namesake charity, the LeBron James Family Foundation. This marks another chapter for Audemars Piguet in the philanthropic world benefitting children.
""We look for icons who strive to be at the top of their games and who are perfectionists like we are," says Philippe Merk, Audemars Piguet CEO. "We are happy to move forward with LeBron."
LeBron James, easily one of the greatest basketball stars and athletes of his generation, joins an elite team of Audemars Piguet ambassadors that includes Michael Schumacher (race car icon), Leo Messi (soccer star), Sachin Tendulkar (cricket star), and famed golfers Vijay Singh, Graeme McDowell, Rory McIlroy, Lee Westwood.