Easily one of the greatest athletes of his generation, NBA star and celebrated two-time NBA MVP player LeBron James has joined the elite corps of global ambassadors for Audemars Piguet. LeBron James surprised the world in 2003 when, at the young age of 18, he was selected as the number one pick in the NBA draft by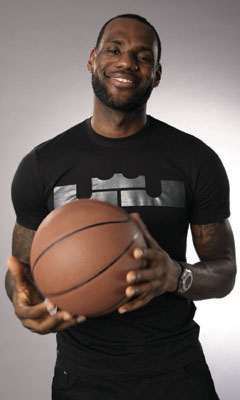 the Cleveland Cavaliers, and in that first year was named the youngest-ever NBA Rookie of the Year. Since then, he has gone on to continually break NBA records and receive honors around the world for his extraordinary basketball skills. He has been both All-NBA and NBA All-Star every season since 2005. Even when he stunned Ohio fans and bidding NJ and NY fans by joining the Miami Heat, he remained steadfast that he wanted to do more than just score. He has since gone on to achieve an important number of Triple-Doubles. In 2004, he founded the LeBron James Family Foundation, which empowers children and single-parent households through innovative programming and initiatives, and strengthens ties via education, fitness and health. In Miami, LeBron spoke about his new ties with Audemars Piguet.
"The number one goal for me in this partnership is what we will create for the kids. When we do develop the Audemars Piguet LeBron James watch, I think that most, or all, of the proceeds will go to the help children through my foundation, so kids can benefit from this, and not just in America, but in all parts of the world."
Both sides of this partnership agree that charity is the first step. In fact, the LeBron James version of an Audemars Piguet watch won't even appear on the market until 2013. In the meantime, the brand plans a host of activities to begin raising money for the Foundation immediately.
"This brand crosses the worlds of luxury, sports and entertainment; it covers all the bases," says James. "So I think my fans will understand why this partnership came together. We both strive for excellence in all our endeavors."
James, who has been a fan of AP watches for some time, was introduced to the brand by long-time friend Jay-Z, who has also worked with AP. "I always thought his watches were really cool and I would ask him 'How can I get one of those?' Then I met Francois [President of AP NA] personally and after days and months and years grew, I got to see that our values were the same."
Today, LeBron James wears several AP watches, including The Legacy, the Royal Oak Offshore and the Grand Prix. "My interest in watches goes back to being a kid. I always wanted to wear a watch; it was the way you finished your outfit. I told myself that if I became financially stable I would have nice cars and nice watches; and I have both."
When I asked James if he had an extra hour in every day, how would he spend it, he answered, "I'd split it 30 minutes with my kids and 30 minutes more to my game. I love being a father and I love basketball and I'd use the time to be with them and to hone my skills."