There aren't many people you would trust your life with – really trust your life with. But I trusted mine with aerobatic aviation instructor Sean D. Tucker recently and I'd do it again. Billed as a power aerobatic pilot and
instructor par excellence (at the Tutima Academy, which he founded), Tucker has flown more than 24,000 hours, is an inductee in the US National Aviation Hall of Fame, has received the Living Legend Aviation Award and is an honorary Thunderbird, Blue Angel and Snowbird – just a few in a host of impressive world-class accolades and awards. In his unique, custom-built Team Oracle Challenger, Tucker has flown more than 1,000 performances at more than 400 air shows in North America in front of nearly 10 million fans—constantly pushing his own personal envelop to offer a signature program with maneuvers that have never been duplicated. A heli-skiier and cave diver who has saved countless lives, the energetic and exceptionally professional Tucker remains ever gracious and humble.
"The air show business is a very tough business," says the 58-year-old, tip-top-shaped Tucker with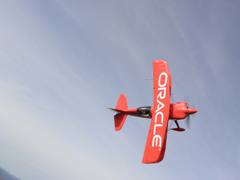 razor-sharp reflexes and a sense of humor to match. Affably enough, he nonetheless presses on with the confession, "Of my three great mentors, two are dead. All of my friends are dead, and they were all champions."
Tucker, who has had to "bail" three times and defer to his parachute, recognizes that even though he always wants to be in control, and teaches how to handle out-of-control aircraft, sometimes outside forces take hold.
"You have to have a reverence for the sky. Flying is truly a privilege and all of us here at the Academy know and respect that. We work hard to honor that privilege. All of those awards I've gotten, you can't start believing that stuff, that you are better, because that isn't what's important in the cockpit when something goes wrong. Those are just words. When something goes wrong, it's what's going on at the time and how you handle it that's important, not what you've done before."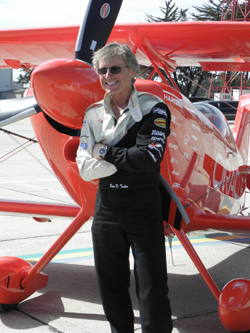 Staying focused may be difficult for many going at speeds of up to 300mph frontwards and in spins, or up to 100mph going backwards, but not for Tucker. He flies three times a day every day to keep his body trained to tolerate G-forces of up to -7.5 and +10 that come with his rigorous routines.
"The crowds don't have any idea how grueling it is for me, or how tough it really is on the body to withstand those G-forces. We don't wear any suits. But that's ok. When I come down and see the joy in people's faces and the awe at what I've just done, the pleasure I've brought them makes it all worth it."
Still, Tucker admits the Academy is where his heart is. "The
training academy is my personal passion. This is where we can really help people. Training young pilots what to do in an out-of-control situation, and do it in real planes, not simulators, in real life – that's vital. It's all about saving lives."