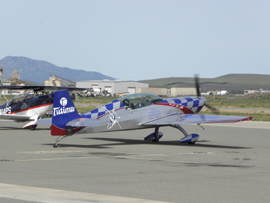 This past weekend, I had the awe-inspiring experience of aerobatic aviation, flying formation and joining the legendary Sean D. Tucker and his team at the Tutima Academy of Aviation Safety in CA. Founded by Tucker, and the only place in the world of its kind, the Academy is dedicated to saving lives. It is the world's premiere precision flight training school and offers in-depth study and hands-on flight practice in aircraft control. The unique training environment is an unforgettable lifetime experience.
The aircraft are state of the art, including Pitts biplanes and Extra monoplanes; the full-time aerobatic flight instructors are pure professionals who've logged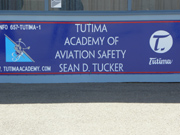 thousands of flight hours. Courses incorporate high-stress psychological response training developed for US Navy SEALS, and everything is led by Sean D. Tucker – easily one of the most inspirational, passionate aerobatic flyers in the world. Driven by a sense of excellence and perfection, Tucker is at once humble and larger than life, with a dedicated enthusiasm and iron will that makes it difficult to end any flying session. (Watch for "A Moment in Time: The Legendary Sean D. Tucker" to be posted soon.)
My first flying session — which seemed relatively quick – started with a briefing with Tucker and the others who would make up our three-man formation flight. We then donned parachutes, familiarized ourselves with our planes (I was flying lead in the Extra monoplane this first time out) and jumped in. Then off we went into rolls, loops, spins and hammerheads (my favorite!) –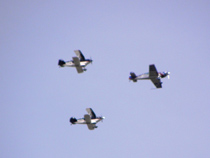 – where you fly straight up and then straight down! An amazing experience; one hardly wants to leave the plane when the flight is over.
In the afternoon, for the second flight, we took the controls and I did my own loops, rolls and hammerheads! G-forces and negative G-forces all impact your body and mind in different ways and it is a wonder to understand what these aerobatic pilots put themselves through on a regular basis to perform for crowds. It is a rigorous training routine – not to mention dangerous. However, that is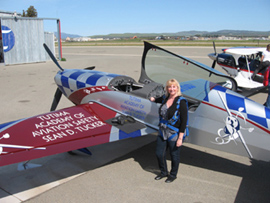 exactly where the Aviation Academy comes into play.
"It is all about knowledge and safety," says Tucker. "It is an art form, but it is also about knowing how to control the airplane no matter how out of control the situation seems. That's why the relationship with Tutima is so important. In Latin, 'Tutima' means 'Safe' and Tutima cares about pilots being safe. It's why they sponsor the Academy."
Indeed, since its inception in 1927 in Glashutte, Germany, Tutima has built mechanical instrument watches for pilots. The brand developed the Military NATO Chronograph line on behalf of the German Armed forces during the 1980's and worn as official standard equipment, and built the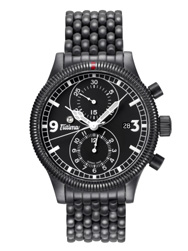 Grand Classic Black ChronoEurofighter Typhoon – the officially Eurofighter watch, among other top-quality extreme instruments. Even for the Tutima Aviation Academy, the brand has a specially developed timepiece that is shock resistant to an acceleration of 7G and vibrations of 4 Hz that only those who complete training can purchase. Tutima timepieces are – if possible- as impressive as the Academy and its flights and instructors. Bravo!