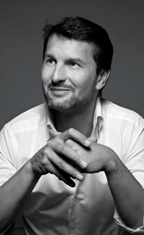 One would be hard pressed to find anyone in the watch collector world who doesn't know Max Busser. Max has made a global name for himself as a creator and gentleman in his years in this industry. He has held key positions and worked wonders in all of them. He spearheaded the Harry Winston Opus series while there and then went on to start MB&F (Max Busser & Friends) as a creative meeting of the minds of some of the finest talents in the industry.  With just about five incredibly successful and maybe even mind-blowing years upon them, Max speaks about his inner thoughts on MB&F and the newest Horological Machines.
RN: Your business is so exclusive. How are sales?
"Our freedom in designing is most important to us, but it comes with a price. We have to work much harder than others," says Max. "Last year I traveled 180 days to meet with collectors and retailers. We sold 152 pieces, up from 143 pieces — for us that is a lot. We can't do much more than that.  Since we started, MB&F has delivered just 460 pieces into the market. We need to thank our collectors by keeping it rare and exclusive. This is important for me; this is not a business, this is my life."
Horlogical Machine No. 4 Thunderbolt RN: Do you have a favorite Machine?
"I am most proud of the HM4 Thunderbolt because we had the guts to do it. With the elaborate case we wondered who would make it. It takes 155 hours to machine it. It takes a month to make the block of sapphire.  It has a 311-part movement that has taken us 3 years to develop. Nothing inside this watch comes from an existing movement. We can only make two cases a month, with two machines allotted to making them. We have already delivered 19 pieces to the market and have a backlog of 23 pieces – at $188,000 each. This is incredible to me.
The Final HM2Then the HM2 also holds a special place in my heart. This is the first one where I went back to my childhood memories – to my love of space and the space stations to draw on my inspiration.  These final versions of the HM2 are special. We are making 18 pieces in sapphire and green, and 18 pieces in rose gold and red, each  for $98,000. What is interesting is that the red and green are water resistant moulded gaskets; that's the color, and the color has made the watches so distinguished. These will be the last of the HM2.  We have to stop making them if we want HM5 to come out. The point for us is to continue to create. We have to stop building something else along the way. So, HM2 ends and HM5 comes out in September."
RN: What's next on the drawing board?  Other than HM5?
" We open in an interesting concept store in Beijing this summer that will be a mechanical art gallery—half our machines and half kinetic art. It is a leap of faith for us, but we have to do it now. Patience is not my biggest virtue."
(And thanks goodness for that. If Max had been patient, we watch lovers may have gone without a lot of wonderful creations! )