Watchmaker Stephen Forsey, along with Robert Greubel, has become a true force in the watchmaking world since entering the watchmkaing scene just about six years ago. Their untiring quest for perfection and pursuit of excellence easily rivals that of their counterparts of centuries ago- and would have made watchmaking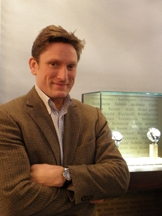 forefathers such as Abraham-Louis Breguet proud.  Atimelyperspective.com unveiled Greubel Forsey's newest Invention Piece 2, Tribute to the Quadruple Tourbillon, recently as seen at the Geneva SIHH. No easy feat to achieve, this nearly 600-part caliber is the most complicated the brand has created to date. Now, Stephen Forsey talks about the finishing of this watch and of other impending pieces.
"It is important that our timepieces offer ultimate visual access into the movements so the wearer can get a full appreciation of the inventions and the extreme fine finishing we put into them," says Stephen Forsey.  "We only make about 100 watches a year because we are limited by the superior hand finishing. It gauges how much we can produce. We have 16 artisans in this department. They spend 50,000 to 60,000 hours of hand finishing each year just to complete the 100 watches we make annually."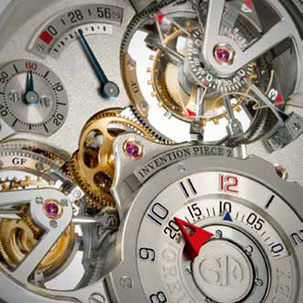 "The hand finishing of the components is just a part of the work. It also takes almost a year to build one of our more complicated movements, such as the IP2 with 594 parts," says Forsey. "So we move slowly in our production numbers. But it is not volume we seek, but precision. We have six other prototypes we are still testing."
In fact, Forsey points to showcases where  inventions the brand has made lie in wait as they are being further perfected.  "It is a time-consuming but steady process.   We believe that the real issue of errors in timing comes when the watch lies flat – -which is usually half the time.  To compensate for this, we must focus on inclined escapements to maximize precision."
Inclined escapements and high-tech materials are key at GF. Among the inventions still to be produced – and let's face it- by production Greubel Forsey means a limited edition of just about 10-20 pieces: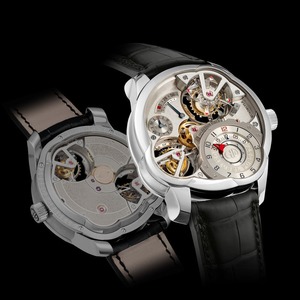 The Balancier-Spiral Binome in Diamantchrone. First revealed in 2007, this fourth GF invention reflects the use of a single stable synthetic diamond material, Diamantchrone, for the balance wheel and spring system. This offers extremely low density, thus permitting high inertia without the additional weight. The hairspring is the resultof a collaboration with Ulysse Nardin.
The Double Balancier. The sixth invention is a new solution for minimizing the disruption to a movement's rate due to the effects of gravity. The mechanism features two independent oscillators arranged at precisely determined angles in relation to each other. If one oscillator is in a less than optimal position, the other minimizes the error so the end result is more stable average rate in all normal positions.
Complex? Yes. But then, this is Greubel Forsey. Expect these pieces to be complicated and commanding.