Celebrity Chef Nick Stellino, Glen Bowen publisher of Watch Journal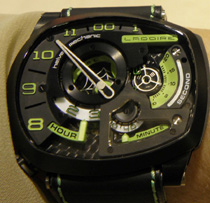 Ladoire Mr. Green, Architecture winnerThe competition was tough, and judging this week's Couture Time contest, sponsored by Watch Journal and held at the Couture Show in Las Vegas, was no easy feat. There were 20 entrants in three categories, and I was pleasantly surprised by so many of the wonderful entrants. Thankfully, I was one of five jurors on the panel. Last night, at the Awards Dinner, celebrity chef, watch collector and co-juror Nick Stellino aptly stated, "A watch is a dream. It is a reminder o f the beauty that surrounds us. It's a new way of assembling time."
That said, the winners of the Couture Time Jury Prize are:
Watch Architecture: Ladoire, Mr. Green: "Distinguished by an elongated profile and taut lines, the ergonomic nature of the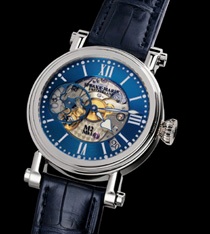 Speake-Marin, Technical Excellence winnertimepieces in the Black Widow collection combines wearer comfort with an aggressive character exuding a sophisticated aesthetic appeal."
Technical Excellence: Peter Speake-Marin, Marin 2 MK1 Thalassa: "It is extremely rare for every component of a watch case, dial and movement to be designed by one man. When that man is master watchmaker Peter Speake-Marin, the result is a timepiece of harmony of form and function, aesthetics and technique. The result is the Thalassa."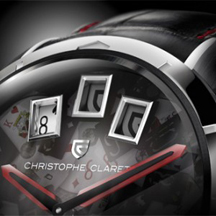 Claret 21 Blackjack, Innovation winnerInnovation: Christophe Claret, 21 Blackjack: "A real miniature casino, the 21 Blackjack matches grand complications with the world of gaming. To transparency, relief and the passage of time, Christophe Claret ads the sensory effects of blackjack, roulette and dice."
Each of the above timepieces has already been covered on Atimelyperspective.com because of their amazing technical prowess. Congratulations to the winners! This week I will also bring readers a look at some of the fine runners up! So stay tuned!