Born Reginald Martinez Jackson, "Reggie", nicknamed "Mr. October" for his postseason clutch hitting  with the New York Yankees, is easily one of the most famous former American Major League baseball players. He enjoyed a 21-year career, played for four different teams and accumulated a number of record accomplishments. Reggie Jackson was inducted into the Hall of Fame in 1993, shortly after which the Yankees retired his uniform number 44. Today he serves as a special advisor to the New York Yankees. Just 10 days ago, along with Franck Muller, Reggie unveiled The Reggie Jackson Collection of Franck Muller Conquistador timepieces (sold exclusively) at Tourneau in New York City. ( https://www.atimelyperspective.com/2011/5/9/around-the-world-franck-muller-hits-grand-slam-unveiling-the) Here he talks about his partnership with the brand and his love of watches.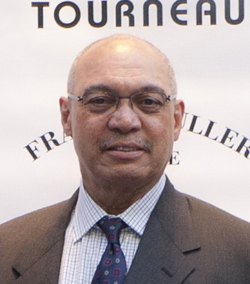 "I started collecting watches in the 1970's. My first watches were Rolex, Cartier and a Bulova Accutron. I remember the Bulova had a big 'Reggie' on the clasp – like I forgot my name.  I loved watches from the beginning. Gene Autry had a western Rolex and I wanted that watch.  Today I own seven or eight Rolexes, and quite a few Cartiers, and others," says Reggie Jackson in an affable way. His tales are expansive – each watch has a story behind it. He easily recalls the year he got the watch, the story behind it, who he got it from, why he got it and if it was a gift or whether it was inspired by some home run, or special hit.
For a man of his stature, Reggie Jackson is not boastful or bragging. Instead, he is warm, humble and genuine.  A friend of Ronald Jackson, president of Franck Muller, for some 10 years now, Reggie  says he was a little surprised when Ron suggested the concept of creating a Reggie Jackson watch collection. "When Ron said he wanted to do this deal, he said he had to talk to the Swiss and go though the channels to get their approval. I didn't think the Swiss would know who I was.  I never dreamed I had the cache' to have a watch of this level honor me; to have a watch with my name on it. I was collecting watches  a long time before making this deal and I know the quality that goes in to a Franck Muller watch. I know the movements. I am really impressed that they came to me. "
Reggie had genuine input into the design of the timepieces, from adding the Yankees blue pin striping, to the look of the hands, and the selection of the case. "We even decided on adding a black and gold model because all the hip guys on the team [Yankees] said they had an interest in one. The watches are not over cooked. They're not dipped in glue and dipped in diamonds. We really discussed the concept and they listened to my ideas and we worked together. I am really happy about this."
A portion of the proceeds of the sales will go to the Mr. October Foundation.