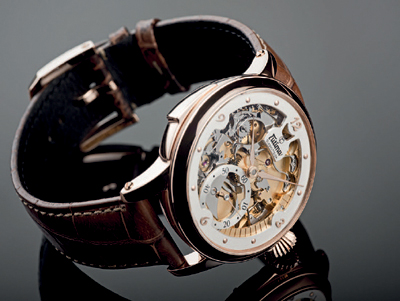 "There is no present without the past," Dieter Delecate, owner of Tutima, said yesterday as he welcomed guests to his new factory in Glashütte. After three years of R&D, Tutima proudly revealed something not one industry observer would have expected to see from this predominantly pilot-watch company: a minute repeater that was fully conceived, designed, and manufactured in the new factory by production head, Rolf Lang and his gifted team of 14 technicians.
This timepiece, aptly christened Hommage in honor of both Tutima founder Dr. Ernst Kurtz and Glashütte, represents the first of its kind on German soil. Lange manufactured its own quarter repeater in the nineteenth century, but all minute repeaters from this city have been based on Swiss ébauches. There have been no German-made repeaters in Glashütte since German reunification – until now.
Tutima's Hommage will be manufactured in a limited edition of 25 pieces in 43mm rose gold and platinum cases, each painstakingly produced on premises. The style of the manually wound Caliber 800 is classic Glashütte, focusing on stability and the finest possible finishing. The plates and bridges are matte gold-plated in the frosted finish typical of early Saxony, while
the steel parts are all tediously polished—including those of the in-house strike train It retails for approximately $238,000.
It should be noted that this watch opens the doors for special editions, though Tutima is not changing its direction—why change a winning game?—but it is moving production workshops from Ganderkesee to Glashütte.
"The Hommage closes a gap in the history of Glashütte," Delecate said. He took over what became Tutima in the 1960s. This brand was created by Kurtz in Glashütte in the 1920s. In 1949, Kurtz anticipated Germany's division and fled the eastern zone just days before the figurative wall was put up. He began manufacturing Glashütte-style wristwatches in the west, putting down roots in Ganderkesee. The highest quality of wristwatches Kurtz manufactured were labeled "Tutima," meaning "safe" or "protected" in Latin.
When Delecate took over the company from Kurtz, he returned the name "Tutima" to the dials. He focused on robust pilot's watches, using Swiss movements to power them, and built a strong reputation and loyal following for Tutima. In 2005, Delecate purchased property in Glashutte, and began the renovation of the space that is now the new factory. In 2008, they began work on this historic piece.
By Elizabeth Doerr