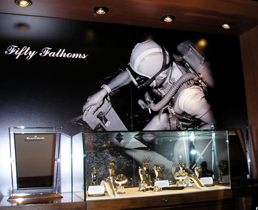 When Captain Robert "Bob" Maloubier established the French version of the Navy Seals–"Nageur de Combat" — in the late 1940s, he ran through a mental checklist of must-have items:
Diving fins? Check. Goggles? Check. Diving suits? Check. Dive watches? Wait a second, Maloubier, thought. Why didn't this elite team of divers have watches to help navigate during military missions?
"We realized that we had no watch that could be seen in muddy waters," said Maloubier, who joined the French Special Forces in 1946 after being awarded the Distinguished Service Order for service as a "saboteur" for the British underground forces during World War II.  "You can do without a gauge, you can do without a compass, but you can't do without a watch when you're diving and the tide is going in and out."
That was the genesis of the world's first modern dive watch, Blancpain's Fifty Fathoms, with water resistance guaranteed to 50 fathoms or 91.45 meters.
And like many ideas, this one began on paper with drawings of a water-resistant watch with highly visible indicators that Maloubier and his lieutenant Claude Riffaud sketched using compass and rulers. When they brought their idea to a French watchmaker, however, "they said it had no commercial future whatsoever," recalls Maloubier.
So the men went to a diving equipment manufacturer that led them to a small (at that time) Swiss watchmaking company called Blancpain. And the rest was history. Blancpain launched the original model of what would become the archetypal diver's watch back in 1953.Initially used by the French Navy Seals, the dive watch was picked up the U.S. Navy Seals—for whom it was crafted by a company called Tornek-Rayville—and other national navies, including Spain and Pakistan.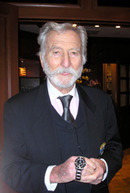 Captain Bob was on hand to talk about his experiences with Blancpain at the brand's Madison Avenue Blancpain Boutique  recently, where now through February 11 an exhibit of some 60 vintage Fifty Fathoms watches from collectors around the world is on display. Also on display: ads for Fifty Fathoms that feature Maloubier in 1953 diving at the Toulon Naval Base in southern France, and several new Fifty Fathoms models. As for Captain Bob, he continues to dive (for fun in Tahiti mostly) and continues to wear his Fifty Fathoms, of course.