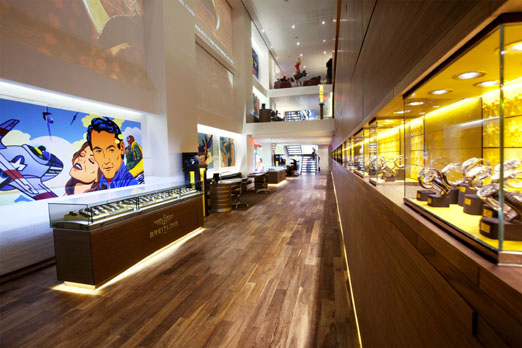 In the posh New York City 57th Street area – just off of Fifth Avenue – Breitling officially opened its first world flagship Boutique last night – amidst great fanfare. On hand
were John Travolta, Wayne Gretzky and Boomer Esaiason, among others. The Boutique, at 5 East 57th Street, is an elongated, 4,500-square-foot, three-story store with wood floors, glass enclosed overlooks from each level and superb artwork. The store front is all glass windows, looking into modern architecture. The walls are adorned with edgy iconic pop-art "comic-book" like paintings that bring to life the reality of Breitling's aviation history and free spirit. Upstairs and around the corner, one can find an entire wall mural in sepia tones recalling Breitling's rich past in aviation, exploration, film, and more. On the third floor, a sculpture of a circa-1940's woman in a red dress sits atop a missile – seductive yet playful.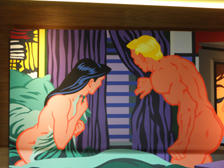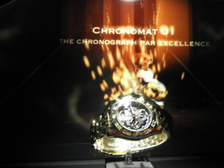 Mingled among these recollections of aeronautics and adventures are high-tech touches. Watch displays feature digital explosions behind the timepieces of changing images including fire, movement parts, text and more. On the main wall a constantly changing digital video is displaying movement parts, drawings, ambassadors, watches and a host of on-going photos. Alluring and inviting, the new Breitling Boutique offers both a nod to the past and a futuristic appeal that shouldn't be missed. Oh—and let's not forget the incredible display of more than 900 watches – Breitlings, and Breitling for Bentleys, as well as exclusive pieces – on display. Going to New York soon? It's a "don't miss" stop.