Not even 40 yet, the very humble, genuine and likeable Guillaume Tetu has already accomplished a wealth of interesting feats in watchmaking. Having spent two years as a Consultant CAO (Construction Assisted by Computer) for the Rolex Supplier of Metal Bracelets, Gay Frères, and seven years with the LVMH Group and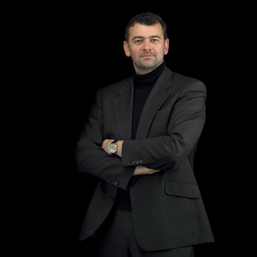 TAG Heuer's Product Development Team, the Lyon, France-born conceptor has a degree in Industrial Design and fast figured out how to blend his industrial know-how with the world of watchmaking craftsmanship. Shortly after the turn of the new millennium, Tetu determined to create a new method of reading time on mechanical watches – and decided to do this via his own company. After talking with friends, developing a business plan and seeking partners and investors, Hautlence was born. Since 2004, Tetu has been in charge of strategic development of the brand and, most importantly, product design. In 2009, he completely took over the brand and further shaped it according to his vision.
Because he plays American football, he has some very interesting approaches to the Hautlence brand that make buying the already extraordinary watches almost a team sport. He has developed a Hautlence owner's club Jacket – a beautiful sartorially tailored jacket made for each buyer of a Hautlence watch who joins the Hautlence Club program. They also get an additional three-year warranty on their watch. "We only make about 200 watches a year, so we are truly an elite club," says Tetu over a quiet dinner at a NJ restaurant with myself and Alexis Sarkissian of Totally Worth It, North America brand distributor. "We now have more than 700 people wearing our watches."
Tetu admits that while he is the conceptor of the timepieces, he is not a watchmaker. However, his understanding of industrial design and engineering enables him to work closely with the watchmakers to
bring his ideas to fruition. "I was very frustrated with the lack of innovation in the traditional watchmaking world, so I decided to design my own watches and movements. I like to look at the watch display and the mechanisms from another viewpoint, mixing design and aesthetics for something more dramatic."
Indeed, Hautlence watches are different. They offer bold designs and innovative indications. Such is the case with the newest HL2.0 making its way onto the scene this year. Tetu had brought it with him for me to examine. The watch, which holds three patents, offers a retrograde minute indication (which means the minute hand moves from 0 to 60 and then returns back to 0 to start its count again) and a numeric (digit) jump hour indicator (which actually moves on a chain link that slides sideways in our increments to reveal each new hour). With the exception of the center retrograde minutes dial, the watch is dial free—allowing the wearer to view the intricately finished wheels and gears. The sophisticated movement – made in-house by Hautlence –is placed in a bold TV-screen case with a sapphire crystal that wraps around the case side to reveal more of the glorious movement. It retails for $200,000 in rose gold and $219,000 in white gold.
"It took us almost three years to develop this movement," says Tetu. "We had to keep going back to the drawing board to get it exactly right. There were things we wanted to do that we had to devise new ways to do them; they hadn't been done before. But that is why I started this company … to do something new. I sign off on everything we make so I am sure it is exact, precise and what we can be proud of."