Easily one of the most down-to-earth, genuine men in the watch industry, Rolf Schnyder is a visionary. A man of a different breed, he sees things from a creative perspective, takes the bull by the horns, and stops at nothing when it comes to fulfilling the seemingly impossible in timepieces. Schnyder purchased Ulysse Nardin in 1983, during the difficult Swiss watchmaking era, and has brought it by leaps and bounds to its position today as one of the foremost leaders in technology, invention and complicated horology.  The Zurich-born Schnyder voyaged to Bangkok at the age of 22 for a Swiss Trading Company, where he quickly expanded watchmaking in the Far East, while also enjoying one of the most exotic life adventures in Asia. Years later, when Schnyder learned Ulysse Nardin was for sale, he saw a great opportunity. Once at the helm, he sought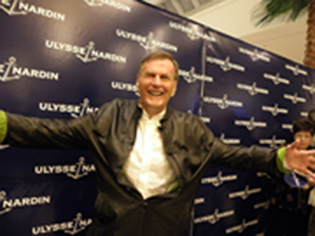 the help of Dr. Ludwig Oechslin, a pioneer and visionary much like Schynder himself. It was the first of many ventures together that would put Ulysse Nardin on the global map. Over the past 25-plus years, Ulysse Nardin has turned out new technology and innovations in pieces such as the Astrolabium Galileo Galilei, Planetarium Copernicus, Jaquemarts San Marco, the now-famed Freak, Moonstruck and more. Recently, Schnyder celebrated his 75th birthday.  He asked for no presents, but instead matched all charity donations made to three children's charities dear to him. He also went on a personal family adventure – skydiving for the first time with his teenage kids. With Schnyder in Florida recently at the 14th Ulysse Nardin Boutique opening worldwide, he expounded on his Ulysse Nardin adventures.
"When I bought the brand, I took a risk, but I believed that unique, innovative mechanical watches would thrive, and I was right," says Schnyder. (Maybe he was right because he did it right.)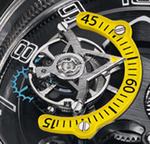 "To celebrate my 75th birthday, I've chosen to unveil a specially made Freak Diavolo, with my signature on it in a limited edition of 75 pieces in platinum. The Freak is by far our most important piece." (The platinum special edition, which retails for $160,000, is pretty much sold out.)
"The historic Freak celebrates its 10th anniversary this year, as well. It is hard to believe the Freak, with its silicium wheels and ball bearings, is already celebrating 10 years."  (There have been regularly introduced renditions of the Freak over the 10-year period – each maintaining the original innovation of the first: a Carrousel Tourbillon without crown, hands or dial and with a novel Dual Direct escapement made of silicium. Each has been a stunning success. )
"The time has really sped by; and I am not nearly done," says Schnyder. Today Ulysse Nardin produces about 2,000 watches per month, and while the company is being much more selective in distribution, Schnyder admits to production concerns. "In America alone we have closed about 10 retail doors to be true partners with our retailers." (The brand sells through about 52 US stores now.)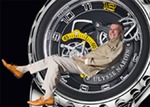 "But no matter how tight we control our distribution, I fear that next year we will be short of goods.  We are in such demand with collectors that we cannot produce enough pieces." (That's ok; the good things are worth waiting for.) Happy Birthday, Rolf.