Fan-favorite British watch manufacturer Bremont recently wowed boutique visitors with the latest installment of its Bremont Adventure club. The Adventure Club features speakers and friends of the brand who  actually do the things their watches are designed to do — putting Bremont's tag line, "tested beyond endurance," to the true test.  ATimelyPerspective was once again on hand for the most recent speech — given by  Andrew Martin of the famed British aviation company Martin-Baker.
For those who have not heard, Martin-Baker is the company that has  designed the ejection seat and, to date, has helped save the lives of 7,500 pilots.  Matrin-Baker is the market leader when it comes to the manufacturing, distribution and servicing of ejection seats. They currently have a 50% market share and service the Air Forces of most countries, ranging from lead client the good old US of A to India, Israel and France to name a few. All said they supply 93 air forces worldwide.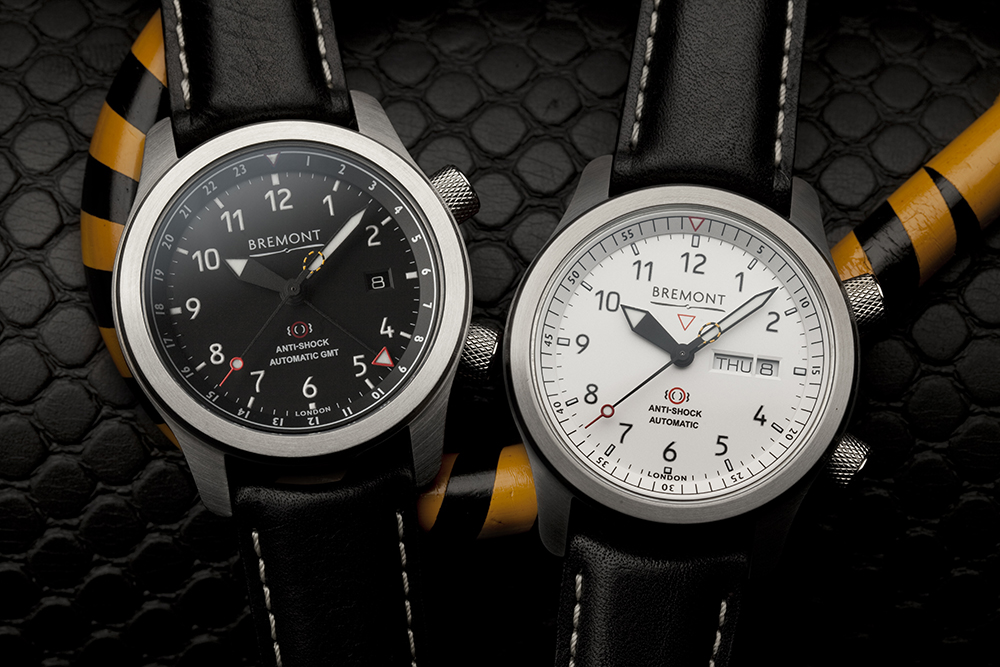 The $500k ejection seat began as a highly mechanical endeavor when the family run company was first started in 1934. Then the brand was primarily an air plane manufacturer founded by James Martin and Valentine Baker. The direction of the company shifted when confounder Valentine Baker died in 1942 in a plane crash. He was piloting the MB3 aircraft when it crashed and he was unable to extricate himself from the vehicle. Out of tragedy comes innovation and James Martin was moved so much by the incident that the company began to focus on ejection seats. When the process first began, it took 30 seconds from seat ejection to parachute deployment. Today the process occurs in less than a second.
The partnership between Bremont and Martin-Baker began in 2007, when Martin-Baker sought out a watch manufacturer that could design a watch that could meet the rigors of becoming pilot ejection certified. Two years later the MB line of watches was born. To be qualified, the watch must undergo extreme tests such as survive the corrosive environment of an Air Force carrier flight deck, long exposures to severe heat and cold, impact tests and a host of other extremes to grueling to mention to lovers of watches that hate to see such pristine pieces subjected to such horrors. The corrosive test consists of long exposure to a salt water mix. For the severe temperature tests, the watch is heated to 49 C for 24 hours and for the cold, the entire watch is frozen in a solid block of ice also for 24 hours.
For the impact tests, dummies are fitted with a prototype watch and sent hurtling at ungodly speeds at various objects. Prototype pieces also accompany dummies on actual ejections. To run a simulated ejection the costs run between $600-$700k.  Bremont watches under the MB line have passed the tests and are as tough as nails. Any serious watch collector with a penchant for a watch with an aviation narrative needs to think long and hard about the MB series from Bremont.
I, for one, cannot imagine the feeling of having your life saved by a piece of technology. The experience is so moving that those who have had the experience seem to memorize the serial number of the seat that saved their life, and it becomes their new epitaph. Martin-Baker presents those pilots with a plaque that has their name and serial number as well a a tie.
The red-striped  MB 1 is only for pilots that have gone through an ejection and should one endeavor to purchase one, you will need your serial number to verify your story. For those who (thankfully) have not been ejected from an aircraft, the MB II and MB III are commercial versions of the  watch. Additionally, if you ever want to see a sample seat up close and personal, feel free to stop by your nearest Bremont boutique to view a Martin-Baker seat in the metal.