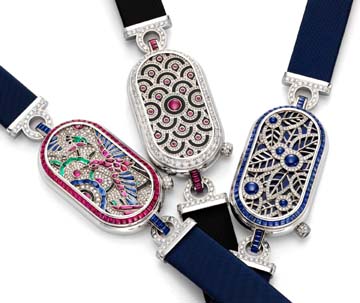 We can never know it all. At the recent party for my book launch, Jewels of Time, I had the good fortune of meeting Steven Grotell – watch designer extraordinaire. Steven Grotell, a veteran designer in the watch industry, has shelved his "designing for others" work as he embraces his own concept of time in a business entity he calls Poetic Time. With a strong anti-branding sentiment, Grotell's name (personal or business) does not appear on the stunning watch dials he creates. Instead, the collection is identified via discreetly placed graphic hallmark stamps that address the core values he tries to embody in the collection – such as art and technology, craftsmanship, rarity and naure's beauty.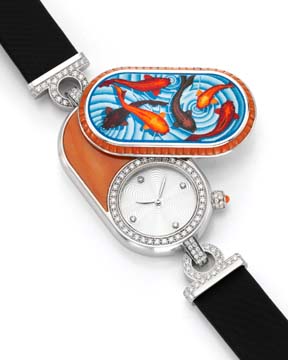 These stunning "secret" watches made their debut in late 2011 in New York City. The first collection totals 25 one-of-a-kind pieces and took approximately one year for Grotell to design and engineer and another year to produce them in Geneva, working in collaboration with some of the industry's most important and talented artisans. Each watch houses a Frederic Piguet 620 quartz movement.
"In many ways, I started the project by asking myself 'If I wanted to create the world's greatest orchestra, who would I assign to each of the chairs?'. As you can imagine, it was not an easy process as many of the artisans had never worked together, have wonderfully creative egos and in many cases compete with each other for work from the same industry clients. In the end, the music that was produced is rather unforgettable and the team is all looking forward to working together on the next round of designs," says Grotell.
This year, Grotell created a Valentine's Day marketing initiative "Because She's Also One-of-a-kind" to back the 25 one-of-a-kind pieces, but says that going
forward, future collections will be one-of-a-kinds. "That's the niche where I want to make my mark and which is most consistent with my thoughts and feelings about the ever shifting sands of what "luxury" really means."
Among the masterpieces from Grotell and his team are stunning bejeweled beauties that feature inlaid mother of pearl, Chinese lacquer and astonishing gemsetting. In fact, the Koi with buff top coral bezel and décor plate is a micro mosaic composed of more than 7,000 individual slivers of Venetian glass which took one artisan more than 1,700 hours to produce.
If you are in New York, you can be one of the lucky ones to see these watches up close and personal at the FD Gallery on Madison Ave.