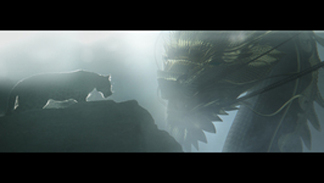 Embracing the panther – Cartier's long-time legendary icon – the House of Cartier brings superb luxury, imagination and sublime beauty to the forefront in a creative new three-and-a-half minute film that magically brings together its history, its global presence and its amazing craftsmanship.
This is a MUST SEE VIDEO. Absolutely enchanting! It is one you can watch again and again – grab a cup of coffee, or a glass of wine and make it full screen! It has something for everyone – a bit of high-tech video manipulations, rich history, a tour of the world, and – of course – the panther – the emblematic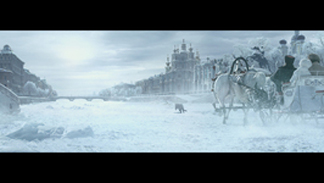 Cartier beast that embodies beauty, decisiveness, instinct and allure.
The film, directed by leading ad director Bruno Aveillan, aired in its entirety last night on prime time national TV networks. It celebrates Cartier's 165 years of rich history and cultural influences and brings viewers on a world tour of Russia, France, China and India. The film unfolds like Cartier's unique history, from Jeweler to European Royalty, to creator of the first wristwatch, made for Alberto Santos-Dumont, French aviator, to its legendary status as a French jewelry house. The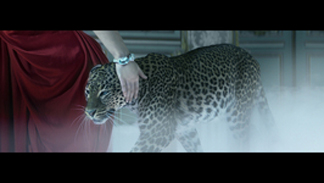 entire film takes place under the watchful gaze of the familiar muse, La Panthere.
"The Panther in the film is the ultimate emblem of Cartier's jewelry expertise and a symbol of strength and freedom," said Emmanuel Perrin, President and CEO of Cartier North America. "Regal and charming, she is aware of the world around her and follows her instinct with a sharp emerald eye, ready to pounce and enjoy life to the fullest."
The original score for "L'Odyssee de Cartier" was composed and arranged by Pierre Adenot. The only person seen in the movie is a graceful and beautiful woman in a mansion (portrayed by Shalom Harlow), meant to define the spirit of the Cartier woman – elegant, independent and mysterious. Screened for the first time at the Metropolitan Museum of Art in New York City on Leap Day, "L'Odyssee de Cartier" (which took three months to produce) will be used as a televised commercial and for marketing and awareness purposes, and will be shown on TV and in cinemas.
So sad that it couldn't be longer – an hour would be wonderful!