It was in the quartz rage era – the crisis of the mechanical watch – that the young Giulio Papi announced to his father that he wanted to be a watchmaker. The year was   1980, and Giulio Papi was 15. He apprenticed in a class of one-on-one – and got the education of a lifetime. A young genius at watchmaking, Papi went to work upon graduation at Audemars Piguet, but was not happy to learn that he couldn't immediately embark on work with grand complications. In 1986, at the young age of 21, Papi joined forces with watchmaker Dominic Renaud to start a complicated movement manufacture called Renaud & Papi. The rest is history.
"We wanted to work with only the most complicated of concepts and create only the most advanced movements," says Papi.  "I was young and had grand ideas. We wanted to work with new combinations of metals and new materials and start a new tradition of excellence and technological concepts."
"It was an exciting time for us because there was  a renewed interest in high-end mechanical watches, and brands were coming to us because they had great ideas about what they wanted to build but they  didn't know how to create the solutions to their technical problems, how to create the end result.  We did."
Still, Renaud & Papi needed assistance in funding, and in 1992, Audemars Piguet became the company's first partner. Within a decade, Renaud would retire and Audemars Piguet would purchase majority shares – making the company APRP, with Papi still to this day holding 20 percent of the shares.
Papi continues to create masterpieces of his own and works closely with all brands.  The company employs 150 top watchmakers and craftsmen and builds about 1200 watches annually – 50 percent for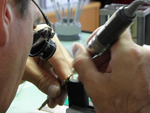 Audemars Piguet and 50 percent for other brands such as Richard Mille, Cartier Privee, Harry Winston Opus, Chanel and Franck Muller.  The company is the brains behind the AP lubricant-free escapement and behind the recently released Chanel J12 Retrograde Mysterieuse — among a host of other exciting pieces. www.audemarspiguet.com.