Academy Award-winning actress Nicole Kidman, an OMEGA brand ambassador since 2004, is the face (and wrist) behind the newly launched Ladymatic line of sophisticated mechanical watches just unveiled in Beijing last week. The world premiere, an event exclusive to just a handful of journalists including myself, featured Kidman walking the runway bedecked with a Lanvin dress and an Omega Ladymatic watch (below). She then shared her thoughts about being associated with Omega, the Ladymatic and her feelings about time.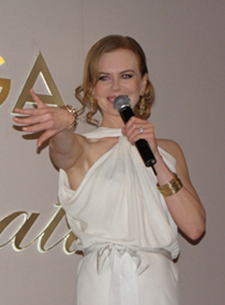 To launch their newest women's only watch collection, the Ladymatic, Omega combined heritage and visionary foresight. The Ladymatic watches  that Kidman is wearing in the ad campaign, and that she wore at the launch in Beijing, represent a revival of a name the brand first launched in the mid 1950's – though the line is a an all-new creation in and of itself. The totally feminine watch collection houses one of the most state-of-the-art Co-Axial, COSC-certified chronometer mechanical watch movements and is incredibly high-tech in its development. They feature a ceramic ring on the case and are crafted in steel or gold, with or without diamonds. Even the bracelet is a patented design. Kidman wore a diamond-bedecked version when she walked the runway.
"I especially love diamonds. They are my favorite stone so this watch is very special to me. Plus, I love the line and the fact that Omega made it for women only; they didn't just fashion a men's line smaller for women."
Kidman, who has worked with Omega for almost six years, says it is a pleasure working with the brand because they are supportive of women and have been helpful in her causes to raise money for women, so the women's line was especially important to her to represent.  "Plus it has many different versions and I, as an actress, have many different sides to me so it fits me perfectly. I enjoy wearing it day or night."
Photographed for the Ladymatic campaign by renowned photograph Peter Lindbergh, Kidman was quite at home behind the scenes. "I still feel like I'm playing dress up." Kidman has been photographed by Lindbergh before and is comfortable with him even on a stark set.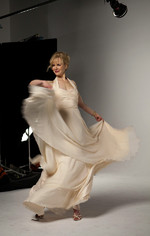 She notes that wearing a watch comes easy to her; she doesn't just do it for Omega. "In my business you learn you have to be on time, so wearing a watch is important. You have to be punctual. I think punctuality is about respect."
On the subject of time itself, says Kidman, "I think the thing you can never buy is time. I am very careful about what I do with it. My husband and I met later in life and the thing we can never get back is time, so how we spend it and use it is very important to me now." http://www.omegawatches.com/.