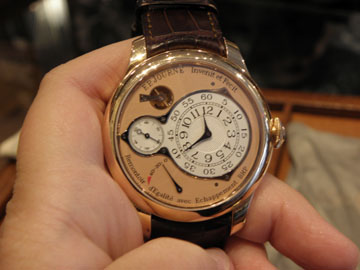 In a private appointment yesterday with master watchmaker Francois-Paul Journe (at the wonderful Madison Avenue FP Journe Boutique), we had the privilege of getting   hands-on to the brand new Chronometre Optimum watch that now joins FP Journe's complex haute horlogerie collection.  This new piece – a three-hand watch – was several years in the making, holds three patents and is sublimely beautiful.
For Journe, the new watch symbolizes the essence of precision, historical watchmaking concepts and modern technologies. "The goal is to be as accurate as possible. This watch encompasses everything we learned from the ones that came before it, but has so many more tweaks for higher precision," says Journe, who admits that he first designed this watch in 2001, but got busy with so many other projects that he has only now been able to bring it to fruition.  (For those in the know, Journe was the first to create entire movements in 18-karat gold, and the first to do the entire Sport collection in aluminum, including the movement. He has brought us so many special pieces over the years.)
The 18-karat rose gold movement of the Chronometre Optimum houses a double barrel with two springs to ensure the stability of the driving force. The patented constant force remontoire (consisting of an extra gear) balances the driving force applied to the escapement to keep it constant. This remontoire is made of titanium for the first time in a Journe watch – making it incredibly light and efficient.
Says Journe, "Silicium is the wrong answer to the friction problem. Silicium will break because it is so fragile. To be friction-less we need to fix with parts that will still be here in 200 years. Titanium is my answer to silicium."
Additionally, the patented EBHP High-Performance Bi-axial Escapement with arbor and wheels in titanium functions without oil,   is the only direct impulse escapement to start up on its own, and operates for 50 hours without loss of amplitude. For this escapement, Journe was inspired by an 18th century A.L. Breguet escapement. In true Journe style, the watch also features a natural dead beat second. The movement has 240 parts in it, but to Journe the number of parts should not matter. "It is harder to make a watch with fewer parts than with many," he says.
This watch is offered in either 40 or 42mm size in either platinum or 18-karat rose gold. It is naturally limited in creation due to the amount of time of production. Everything is made in Journe's workshops in Geneva and in the dial and case making companies that he owns half of. Journe hopes to have 18 out this year for world wide availability, and perhaps 60 next year. This 40mm size in rose gold that we had our hands on retails for approximately $86,400.