By Dan O'Rourke
There's nothing like sitting in a living room filled with people silently watching an all important world cup game. It's something that is hard to forget. The intensity is full forced. Emotions are high and all viewers know what's on the line. Whether or not you were a neutral viewer or a dedicated supporter of a country, the final few games of the World Cup were breathtaking and heartbreaking. It's no wonder the World Cup is the most viewed sports event on the globe. It speaks for itself.
The past few weeks have been a treat. Its not often you can watch such an assortment of truly competitive football packed into such a short period of time. While the World Cup did not disappoint in quality, there still was a large chunk of the world that walked away from this year's tournament in disappointment.
Considering first our host nation Brazil: Its team's semifinal collapse was nothing short of devastating. Coming from a country who worships the game as much as their God, the tears seen running down the Brazilian's faces invoke some sort of sympathy; unless you were of course Germany or their less-than-amiable neighbors, Argentina. Perhaps what was even more humiliating though was Brazil's inability to retain their pride and win the third place match against the Netherlands. They were shut out and beaten 3-0. While the world may have considered Brazil the underdogs against Germany, having lost its star goal scorer, Neymar, to injury and its captain, Thiago Silva, to a one-match suspension, the performance the Germans put on was one of complete dominance. Brazil's only saving grace in this year's cup was that their rivaled neighbors were unable to be crowned the Champions.
Argentina was more than excited having made it to the final. They flaunted their sentiments regarding Brazil's collapse. Then they paused their lives to watch their team hopefully repeat history and win as they did in the 1986 World Cup final against the then, West Germany. There were aspects that felt familiar about that game twenty-eight years ago. The most recognizable trait was that Argentina again had itself arguably the most dominant player in the day's game attempting to lead his country to a World Cup trophy. In 1986 Diego Maradona with his ingenuity scored two goals to win crowing Argentina as the Champions. In 2014, Argentina had Lionel Messi. And while Messi can do wonders with the football, he was no match against Germany's defensive back line.
Of course, reality writers couldn't have posted a better script than the way the final ended. With the final seconds of extra time winding down in a 1-0 game, Messi was given a free kick within scoring range of Germany's goal. As a viewer, the time between the whistle for the foul and the kick itself, felt like a lifetime. I can only imagine that with the nerves, the expectations, with everything on the line, that time must have felt like an eternity for Messi. His kick sailed high over the cross bar. His face told the whole story. Knowing that was his chance to make history, he instead watched Germany celebrate their win forever etched into time.
Germany's win was well deserved. Their dominance and sheer resilience is what makes champions. Yet to win the world cup it takes more than just skill. In a tournament as long and tough as the world cup, teams need a lot to go right for them. Injuries occur, suspensions take hold, and referees make game changing calls.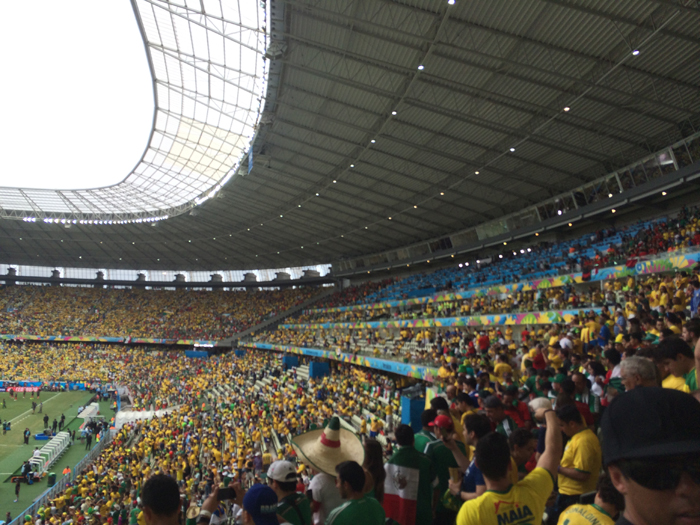 You may recall we wrote about IWC's involvement in the world of soccer earlier in the World Cup rounds, here. The brand has been involved in soccer for years, so it comes as no surprise that German Coach Joachim Low was wearing an IWC Portuguese Yacht Club Chronograph throughout the final game.