By Gordon Henderson
Arnold & Son – a brand we love here at ATimelyPerspective and have written about time and again — represents the fusion of British history and Swiss watch manufacturing. The brand is a favorite of many in the horological circle because it offers classic styling with new and fresh technological interpretations. The brand regularly releases world firsts and patented concepts – always quietly and unassuming.
The newest of its unique insight comes with the new references of its Limited Edition (just 8 pieces) TE8 Métiers d'Art II.  Inspired by the pocket watches created by John Arnold (the brand's founder) for King George III and his royal court, the TE8 collection highlights the brand's rich history. The TE8 Métiers d'Art II brings the concept full-circle – offering rich historic aesthetic with state-of-the-art visionary technology.
First, a quick word about the history of tourbillons: As you may or may not be aware, Louis Breguet created the first tourbillon. A lesser-known fact is that John Arnold was an active participant in its design. So strong was the partnership that Breguet's first Tourbillon was mounted in John Arnold's No. 11 movement and sits in London's British museum to this day.
The new piece is powered by the manually wound caliber A&S8000, and features an inverted Tourbillon – meaning the technical elements and visually arresting features are shown on the dial side of he watch. Additionally, the timepiece is finished with a unique 'English' design. The 'English' styling references the design on the barrel bridge, which features a 3/4 wave-shape, along with triangular tourbillon and motion-work bridges, as well as wheels shaped with a three-spoke design. The same design elements are also applied to the tourbillon cage and barrel wheel.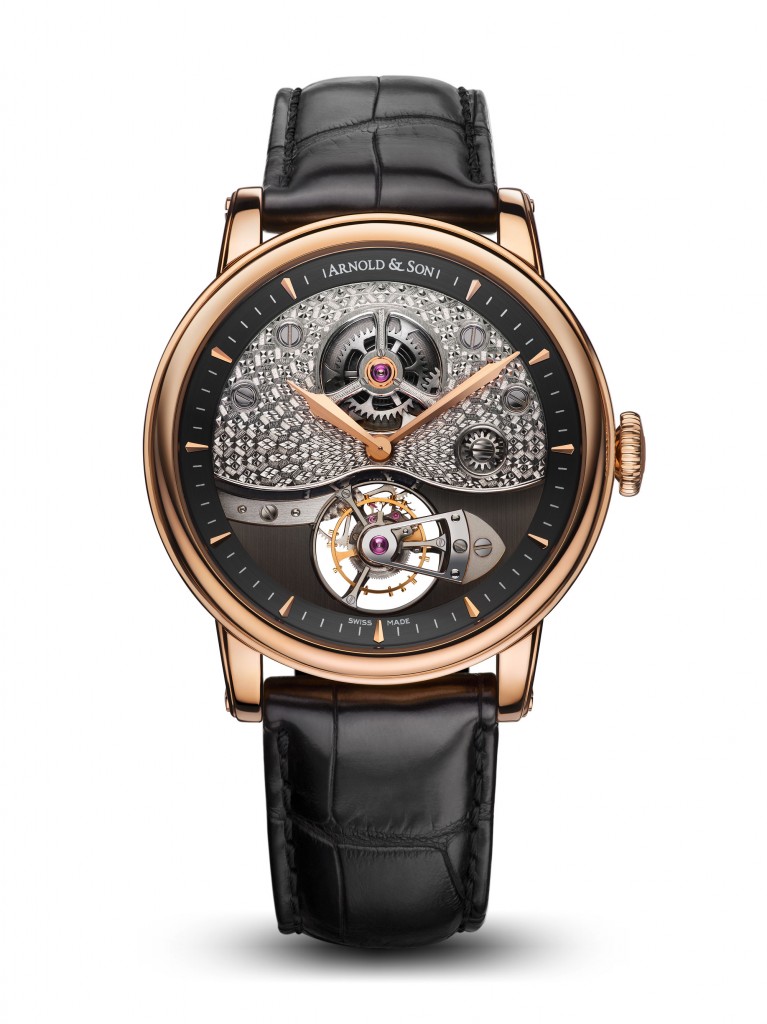 Not only is the timepiece an incredible work of design and finishing, but also it is a technical marvel. To achieve the symmetrical layout of the movement, Arnold & Son's team overcame number of challenges, including aligning the barrel spring and tourbillon cage on one axis.
The hand engraved design – created by a single master engraver — was specifically created for this watch and features geometrical motifs that start at the center and work their way out. It takes a master engraver skilled in the use of a burin to create the desired three-dimensional effects of the piece. A true Haute Horology piece, just eight of these 44mm rose gold watches will ever be produced. Each is individually numbered and retails for just under  $132,000.