By Ryan Walsh
After the 83rd Geneva Auto show last week – the biggest car show of the year —  many new machines are getting a lot of attention. Top among them are two brands about which many dream. Let's face it, anyone who loves cars has, at some point in time, aspired to own either a Ferrari or a Lamborghini, or maybe even both.
These rival brands have a long and storied past, and one actually owes its super sleek sports car birth to the other. Ferruccio Lamborghini was a mechanic in the Italian Royal Air Force and served in WWII. He then went into the tractor business, building tractors with surplus military parts, called Lamborghini Trattori. With his abundance of money, he could live out a childhood fantasy and buy as many cars as he wanted. In 1958, Lamborghini bought his first Ferrari 250GT. When his clutch burned out, he realized it was the same clutch he used in his tractors. He asked Ferrari if they could build a better replacement. Essentially they told him that he was just a tractor maker and knew nothing about how to build a sports car. The rest, as they say, is history. Today, Ferrari and Lamborghini are fierce competitors in the super cars industry. And this year's Geneva Auto Show confirmed that, with Lamborghini unveiling its Veneno and Ferrari releasing the LaFerrari –each the fastest cars the brands' have built.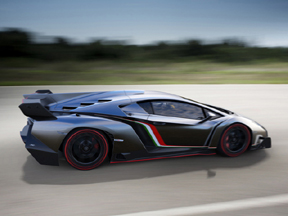 Like the other Lamborghinis, the Veneno takes its name from a bull — a particularly fast bull from the 1900s. With only three being built — to celebrate Lamborghini's 50 year anniversary –this $3.9 million dollar raging bull stomps out 750hp. Composed mostly of carbon fiber, placed on a $400,000 Aventador chassis, Lamborghini's design looks like something Batman would drive. The rather small, 6.5l V12 engine will launch the beast from 0-60 in a mere 2.8 seconds and hurtle forward at a max speed of 220 mph. The bad news is, even if you had the near $4 million dollars for the car, all 3 Venenos to be built have already been claimed.
The Ferrari LaFerrari, code-named F150, was designed totally  in-house as opposed to previous models designed by Pininfarina. Though the best view may arguably be the front of this beauty, it is doubtful you'll be seeing much of it if you were to see one on the road. The rear may give some a hint of the famous Enzo. Peak horsepower reaches an insane 950. By the way, this massive powerhouse has a hybrid drive train… yes, hybrid. It is Ferrari's own HY-KERS hybrid setup, which, believe it or not, boosts power by 10% and reduces emissions by a drastic 40%. Only 499 of the LaFerrari will be built, and for a very affordable $1.3 million dollar tag compared to the untouchable Lamborghini.
Given the money to purchase either of these cars, which would I buy? My answer may be very different than expected. I would go with the questionable answer of neither. With the knowledge of the capabilities other cars offer, and the desire to have a one-of-a-kind, one can just as easily (and for a fraction of the price) build a car to contend with either of these two.