By Ryan Walsh
With the beginning of a new week ahead of us and another long week of work, here's something for car lovers to look forward to: the 2013 NYC auto show begins later in the week. Of course there are going to be many super cars and some cool concepts cars, too.
Personally, I'm looking forward to the 2014 Dodge SRT Viper T/A. For those of you who don't know, SRT stands for Street and Racing Technology, while T/A stands for Time Attack. Being a Mopar fan, and knowing the work of Ralph Gilles, head of Chrysler's SRT division, this beast should be ready to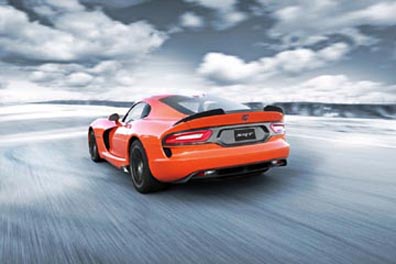 strike back on the track. The inspiration behind building this new stripped-down track version was Motor Trend's test between the brand new 2013 Viper and its rival, the 2013 Corvette ZR1. Gilles was not happy with the loss to Chevy, especially since the ZR1 set a new course record, beating the last one that had been set by a Viper. So, Gilles set to the drawing board after the brand new, redesigned Viper lost.
The T/A still has the stock 640hp and 600 lb-ft of torque produced from the behemoth 8.4L V-10, but they lightened the car, worked on the aerodynamics, and the car's handling. The Bilstein suspension was re-worked, the dampers and stabilizer bars have been retuned, and it boasts stickier Pirelli tires on lighter wheels. The front brakes have been changed to the much-needed Brembo parts and the brace in the engine bay has been changed to carbon fiber, away from aluminum, every ounce counts. Along with all that, racing seats lighten up the ride, and a new carbon fiber splitter and spoiler have been added for down force.
The results of the T/A were exactly what Mopar fans and Gilles wanted. Not only was the car about a half of a second faster than the Viper's last lap, but also it beat the ZR1's time by .08 of a second. When it comes to racing, every split second counts, and that .08 of a second was enough for the T/A to set a new record. Only 33 of this car will be sold. But, if you're really intent, you may be able to build your "regular" Viper into a track car too, for a price most likely cheaper than what they'll be charging you. Oh- and maybe we'll see you at the NY Auto Show.