Article Courtesy of WorldTempus.com, Watch Culture
By Keith Strandberg
WorldTempus Rant #8  — Service Event Horizon
— The watch industry doesn't have enough watchmakers to do the servicing. Be afraid…Be very afraid.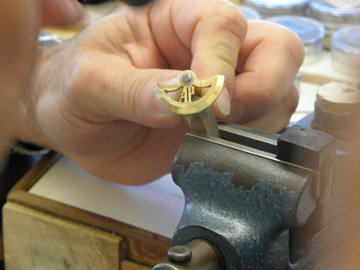 Back when quartz ruled the world, there wasn't much worry about service. After all, when your battery ran out, the watch store replaced it; maybe they performed a bit of service, but it wasn't major surgery. Today, however, with the rebirth of the mechanical watch, all bets are off.
As millions and millions of mechanical watches are sold, and mechanical watches are so popular now, showing no signs of abating, we are all in for a rude awakening. The term "event horizon" roughly means the point of no return, and if watch companies don't get themselves in gear, that just about sums up where the watch industry is.
You see, every single mechanical watch will one day need to be serviced. And the reality is that the watch industry doesn't have enough watchmakers to do the servicing. It's simple really: more watches minus fewer watchmakers equals big problems looming.
Something's got to give, and so far the watch companies haven't been giving much. Today, even with fewer watches going back for service, watch companies are woefully ill-prepared for service. Customers complain about the time it takes to get their watches serviced, and turnaround times of months to years are commonplace.
More watches minus fewer watchmakers equals big problems looming.
Sure, your watch is not like your car, and you can't expect it to be turned around in a day. But it would be nice if you could get it back quickly, something that most watch companies are challenged to do.
Back when quartz watches almost killed mechanical timepieces, we lost a generation of watchmakers as there was no watchmaking to do. People left the industry to do something else, and much knowledge simply disappeared.
Today, we have a different problem. Some watchmakers have filled the void, certainly, but not nearly enough. Add to this that after-sales service of entry-level mechanical timepieces isn't the sexiest job to do, and you can see the problem.
Most young watchmakers dream of working on tourbillons, minute repeaters and perpetual calendars, not servicing Joe Blow's three-hand automatic. If a great watchmaker works in after-sales, you know they are working on restoring fantastic timepieces, as Christophe Claret and Antoine Preziuso started out doing(and continue to do).
So, as more and more mechanical watches get sold, and the number of mechanical watches that will eventually need service multiplies year after year, the watch companies had better sit up and take notice, and do something about it.
– Modernize their service operation.
– Hire and train more watchmakers.
– And supply the after-sales service that we all expect.
If today's watch companies do the above steps, and take service issue seriously, the future of the watch industry will continue to be bright indeed.