Unveiled at BaselWorld and now making its way to the retail stores, the Swarovski Crystallium Automatic watch won an honorable mention from the Red Dot Award for Best Product Design 2013. This is no great surprise when you consider the fact that the stadium-style watch was conceived of by renowned watch designer Eric Giroud.
This was Giroud's second time designing for Swarovski (the first was a woman's watch known as the D:Light and which also won a red dot design award). This new watch – for men- was a challenge that he embraced whole heartedly.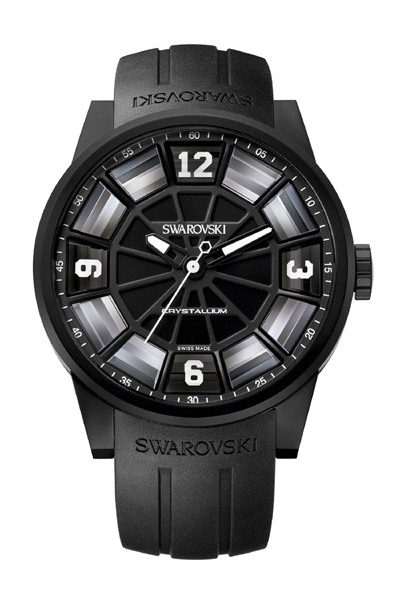 "I talk to the brand when I start a project like this; I ask a lot of questions," says Giroud. "Then I go away and think for a while. In this case it was two or three weeks. Then the idea came to me. Men like sports, a stadium look would be great. So, this project, like most, is the accumulation of many questions and the product is the single answer."
According to Giroud, Swarovski wanted several materials in the timepiece, including its signature crystals.  His response was to turn to steel (and steel with black PVD) and aluminum for the 48mm case and bezel. The dial slopes down from the case to the flat center of the dial in stadium form, with four Arabic numerals covered in crystal and the other eight hour markers covered in clear or jet crystal.
Says Giroud, "Crystallium is like a crystal arena, a stadium of crystal. Each watch is composed of 12 blocks of faceted crystal, placed in a circle and symbolizing a crystal stadium. Reading the time, its owner will have the impression of looking at an arena with its tiers symbolized by each facet."
The dial is further enhanced with a spider web pattern that adds depth and dimension to the watch, which is water resistant to 100 meters. A sapphire crystal caseback allows for viewing of the automatic Swiss movement.
Giroud, who was an architect until the age of 30, has worked on two Harry Winston Opus watches (9 and 11), an MB&F watch, Roman Jerome and others, says the price category of the watch does not influence the design. "It is all about learning to work within the constraints and about having a dream and making the dream come true."